Taste The Modern Chinese Cuisine
Andrew will present a specially crafted tasting style menu from Thursday 30 March – Saturday 1 April 2017, showcasing a plethora of flavours and ingredients, and celebrating his uniquely modern twist on Chinese cuisine. Each dish on the menu is inspired by a specific region of China and is served with a ceremony that reflects the country's immense pride in its gastronomic heritage.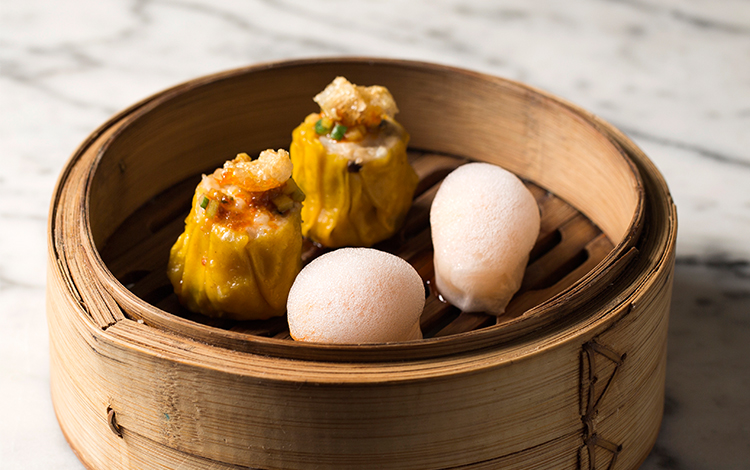 Prawn dumpling with foamed rice vinegar

On arrival guests will enjoy a unique cocktail created by Andrew alongside cocktail scientist Rachel Edwards; The Forbidden City Champagne, named after the opulent Imperial Palace in the heart of Beijing, takes diners on an exquisite culinary journey around China. Taking inspiration from ancient Chinese food rituals and imperial kitchens, carefully paired bar snacks will be served as the starter of the meal. Inspired by a trip in 2011 to Hong Kong that imbued Andrew with the courage to bring his own contemporary interpretation of celebrated dishes in Chinese cuisine, the first item on the bar snacks menu is Andrew's prawn dumpling with foamed rice vinegar that is sure to excite.

Gong bao chicken with hot pot aroma

The main menu will be served in five categories; egg, sea, pork, beef and chicken, with highlights including Andrew's 63 degree tea egg, that is typical of his refinement of classical Chinese cuisine. Named after a notable military figure, General Gong Bao, Andrew's Gong bao chicken with hot pot aroma is a delicate dish of corn fed chicken served with peanuts, his own sauce and Sichuan aubergine that stays true to the cultural and historical heart of this famous export from the Sichuan Province. Another dish to be presented for the first time in Hong Kong is Andrew's Smoked chicken and sweet corn soup, foie gras cappuccino that brings a modern twist and a touch of decadence to an age old favourite.
To end the menu, Andrew is bringing a selection of desserts to Hong Kong including his much loved Poached meringue and orange sorbet dessert.

Click HERE to view the full menu
ABOVE & BEYOND
Location: Level 28
Reservation: (852) 3400 1318
Opening hours: 11:00 - 14:30 & 18:00 - 22:30