GETTING AROUND TOWN – ICON STYLE
ICON-GUIDE
A vibrant metropolis unlike anywhere else in the world, Hong Kong's is buzzing with dynamic dining, shopping and cultural activities. To help you maximise every minute of your visit, we've put together some tips and tricks that will have you zipping around town like a local in no time!
TRANSPORTATION

If you are here for a few days and plan on taking public transport, we recommend buying an Octopus Card from an MTR station instead of individual train tickets. The Octopus card is widely used in Hong Kong for transportation, as well as at shops, and cafes.
If you have time to spare, take the Star Ferry to cross from Tsim Sha Tsui to Central or Wan Chai. It costs only a few dollars and you can enjoy a relaxing ride overlooking Hong Kong's beautiful harbour.
Allow additional travel time during rush hour between 5 and 8 p.m.
Many taxi drivers will not accept HK$500 or HK$1,000 bills, so it's best to have HK$100 and HK$20 bills on hand.

ACTIVITIES

As an essential part of the locals morning routines, Tai Chi practioners are ubiquitous in public parks and areas. Get a bit of exercise while soaking up the local culture with a refreshing morning walk along the Tsim Sha Tsui waterfront near the hotel. There are Tai Chi classes, which cost HK$50 per person, led by qualified instructors every Monday, Wednesday, and Friday from 7:30 to 9 a.m.
You may consider visiting the Hong Kong Museum of History and Hong Kong Science Museum, both of which are within 5 minutes walking distance from the hotel. Both museums offer free entry every Wednesday.
Theme parks like Ocean Park and Hong Kong Disneyland very popular and can be crowded especially on weekends. Visit the Concierge desk to book tickets in advance and avoid the lines.
For a place so renowned for its urban density, Hong Kong has suprisingly a lot to offer for reconnecting with nature. Quaint villages, scenic hikes, emerald waters and pristine beaches, you name it. Check out our top 5 activities here.
SHOPPING

Take in a little bit of the city's history as you shop when you visit places like the PMQ (former Police Married Quarters) in Central, 1881 Heritage in Tsim Sha Tsui and Tai Kwun Center for Heritage and Arts, which are housed in restored historic buildings.
Shops of the same type are often clustered in the same area. For example, wide ranges of electronic products are available in Wan Chai, ribbons and textiles abound in Sham Shui Po and dried seafood is best found in Sheung Wan etc. Let our concierge know what you are looking for and they can point you in the right direction.
A small fee for plastic shopping bags will be charged at all retail outlets due to the environmental levy scheme by the government. Feel free to bring the reusable shopping bags in your room for your treasure hunt in town!

DINING

Hong Kong's 'Dai Pai Dong'

(

大排檔)

is a type of open-air street food stall and are fantastic for tasting authentic local food. Often characterized as untidy with the lack of air-conditioning and its iconic green-painted steel kitchens, these stalls are regarded as a collective memory of Hong Kong locals. Authentic Dai Pai Dongs are scarce today, with only about 25 stalls remaining in Hong Kong.
There is an abundance of highly affordable and delicious 'Cha Chaan Tengs'

(茶餐廳)

around Hong Kong. These local styled cafes are well-known for their service efficiency, eclectic menus (often offering Hong Kong style-Western cuisines that are quintessentially Hong Kong. Please be minded that English may not be the first language of the waiters/waitresses, and table-sharing is quite common.
Many casual restaurants will give you a ticket while you wait for your table. Make sure you stay nearby as they tend to pass your seats to someone else if you are not there when they call your name or ticket number.
WIFI

You don't need a local SIM card to stay connected during your visit.
Bring along the Handy phone from your room and use the free hotspot to connect your own cellular phone.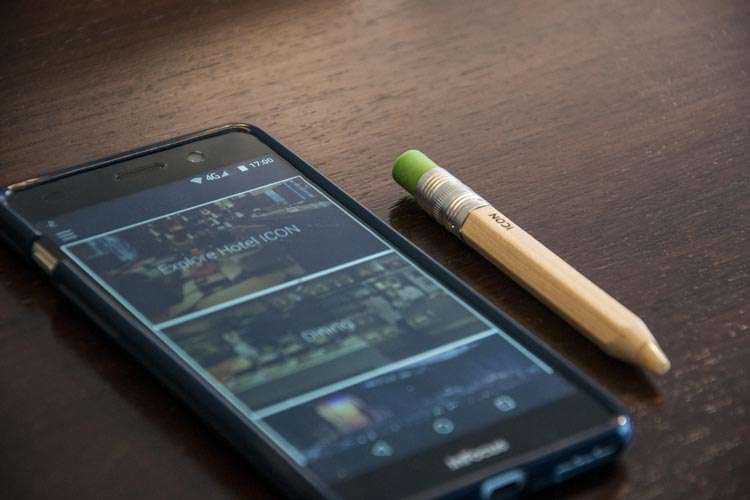 Emergencies: 999
Hotel ICON: +852 3400 1000
To view Hong Kong's MTR map, please click here.