MUST TRY: 8 Quintessentially Hong Kong Street Snacks
FOODIE
The city which never sleeps also happens to be one that never stops eating!
With over 30 years of culinary experience, Hotel ICON's Executive Chef Philip Leung
presents to you eight traditional street snacks that are quintessentially Hong Kong.
Egg Waffles (Gaai Dan Zai)
Your culinary discovery of Hong Kong's most authentic street food begins
with these nostalgic, iconic little golden puffs called egg waffles.
Although egg waffles are ubiquitous and can be found in almost every corner,
Lee Keung Kee North Point Egg Waffle (492 King's Road, North Point) is home to some of the fluffiest egg puffs in town.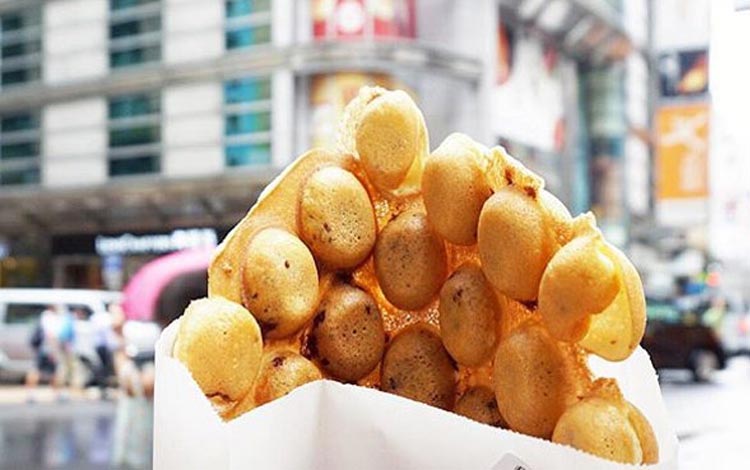 Photo credits: Blanche Tan
Hong Kong Waffles (Gaa Zai Peng)
Yes, we agree that the aforementioned iconic "Egg Waffles" are amazing,
but let's give some credit to this underrated local snack!
The classic Hong Kong Waffles 格仔餅 are packed with a generous serving of
peanut butter and condensed milk that perfectly contrasts with its crispy waffle shell.
Though you can find it in virtually any street stalls, Mammy's Pancake (8-12 Carnarvon Road, Tsim Sha Tsui, Hong Kong) wins our hearts.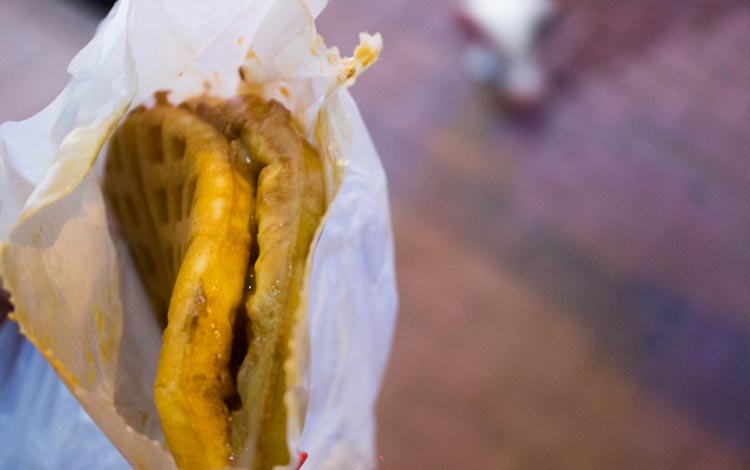 Photo credits: That Food Cray
Siu Mai
Finally, the king of Hong Kong's street food makes an appearance.
Hot, steaming siu mai served in fives on a bamboo skewer or in tens on a styrofoam bowl
with a dash of soy sauce and chilli oil is the go-to snack for all Hong Kongers at all ages.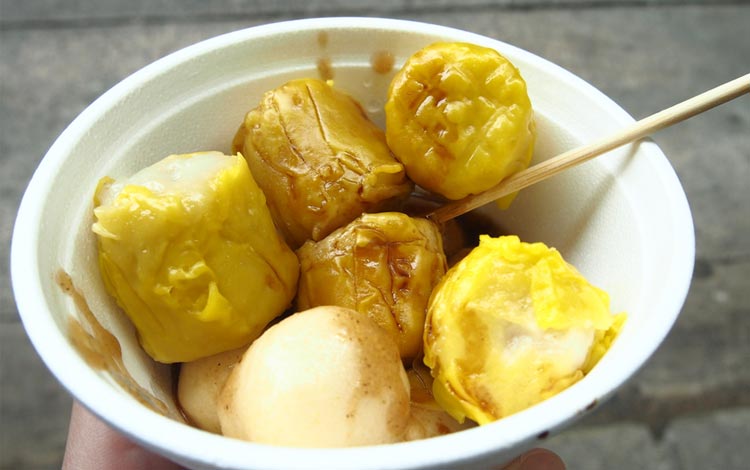 Photo credits: Tiffany Shek
Curry Fish Balls (Kaa lei yuu dan)
Steaming hot, slightly spicy and packed with flavours, these almost neon-yellow fish balls are no ordinary ones.
The Hong Kong curry fish balls that are cooked and marinated in
the house's secret curry sauce are springy in texture and essentially Hong Kong.
The most traditional way is to serve them in skewers (styrofoam bowls are for the lazy!)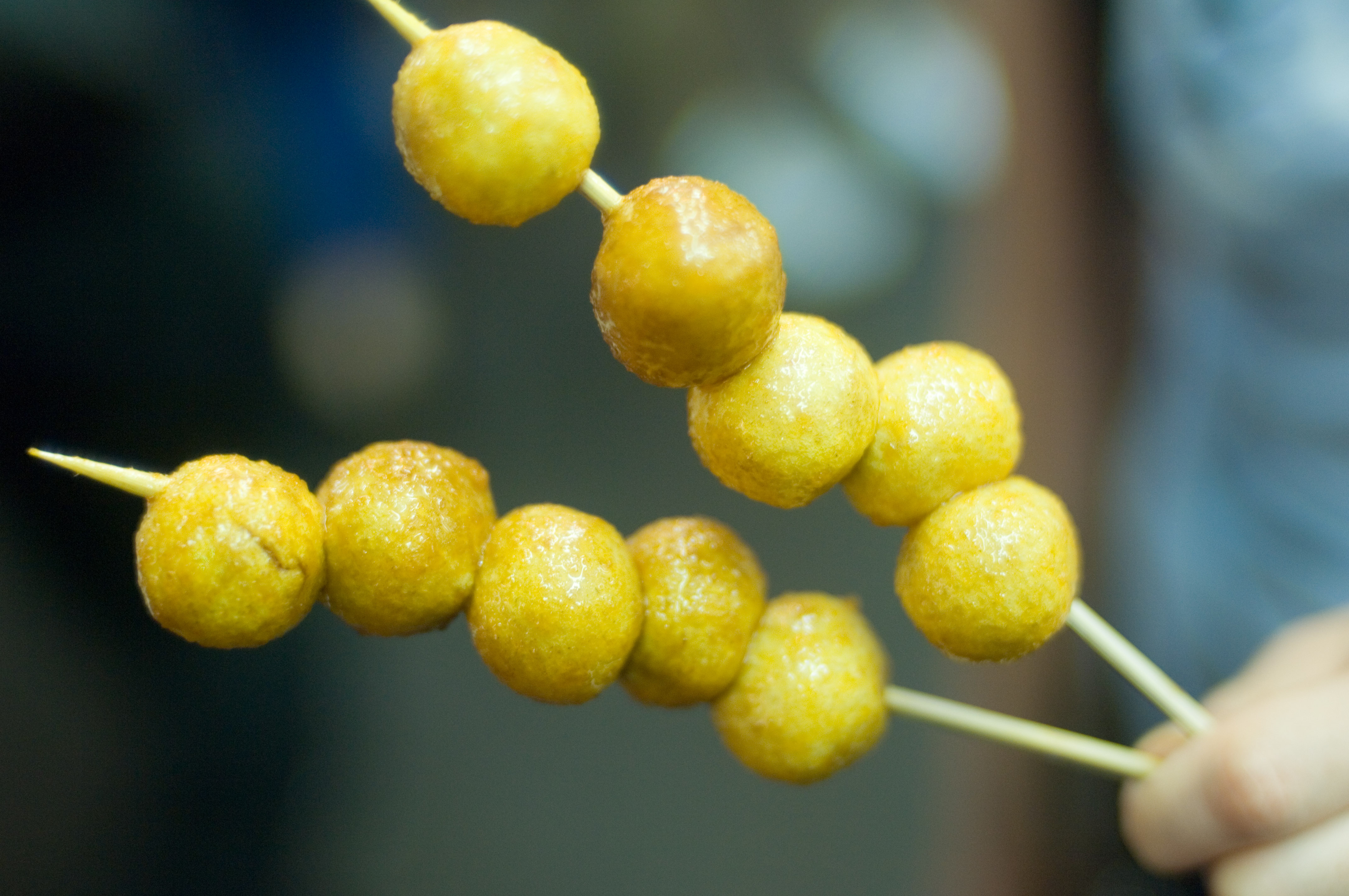 Photo credits: John Harvey
Chinese Pudding Cake ( Put Chai Ko )
缽仔糕 is a traditional snack made with sticky rice flour and brown or white sugar.
The batter is slowly stirred and put into little pudding shaped moulds before steaming.
Red beans are often added to enhance flavour.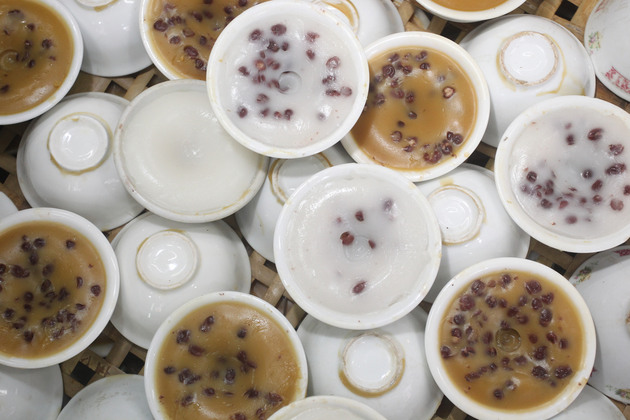 Photo credits: Hope Trip
Beef Offal (Ao Jap)
Though braised beef offals (typically made from cow intestines, heart, liver or kidney) are
commonly sold in Hong Kong street stalls, it is definitely not for the faint of heart.
Those who had the courage to try it have described its texture as
a unique combination of chewiness and sliminess.
Are you brave enough to try it?
Origin: A Chinese king was at a plowing ritual, when it started to rain very heavily.
Worried about a possible famine, the king ordered his people not to waste any offals and cook it instead.
The offal dishes received considerably positive feedback and thus began to spread in Shandong and nearby provinces.
Due to its high protein and rich nutrients, it is also easily absorbed through the gastrointestinal tract.
Readers should, however, be mindful of its high cholesterol content.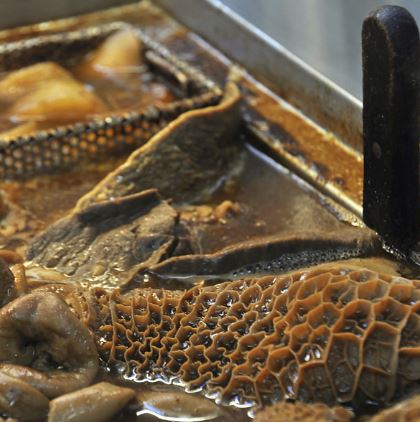 Photo credits: Travel + Leisure
Jin Yeung Sam Pow
Directly translating to "three pan-fried treasures", Jin Yeung Sam Pow presents
patrons with a spread of raw ingredients (eggplants, green peppers, dace meat and chinese sausages)
stuffed with fish meat. Vendors will pan-fry these ingredients to
serve you Hong Kong's version of a late night snack!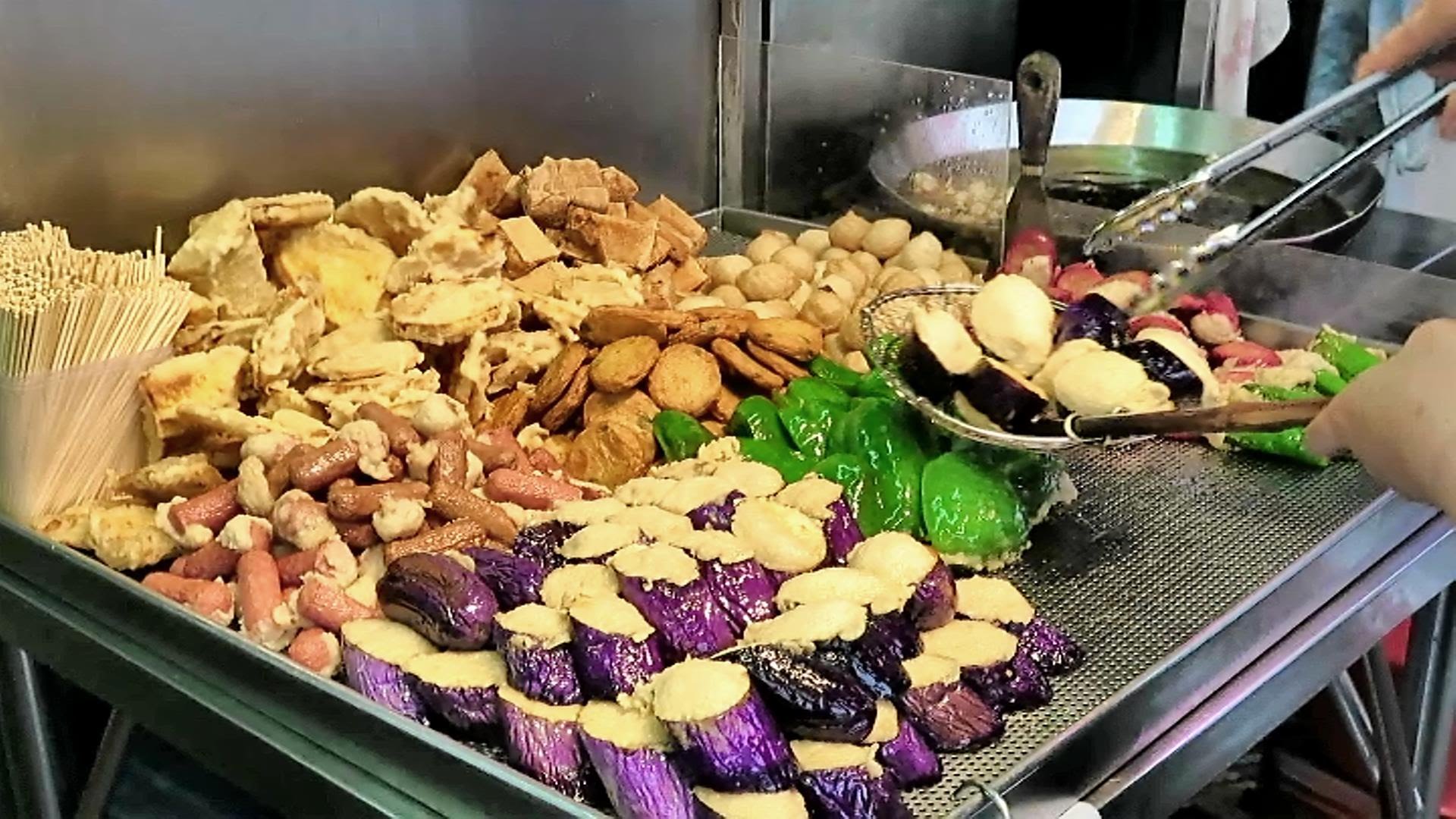 Photo credits: Set time
Dragon Beard Candy ( Long Sou Tong )
Every kid who grew up in Hong Kong would have tasted this
traditional candied peanut Chinese cotton candy.
Although hand-made Dragon Beard Candy stalls are rare to find these days,
these nostalgic snacks are still being sold in many supermarkets.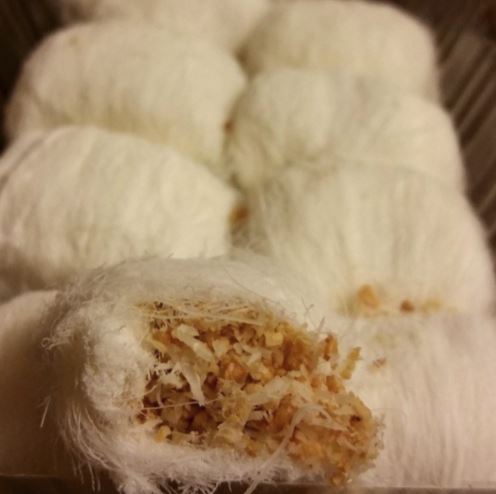 About Philip

Home-grown Executive Chef Philip Leung has been in the industry

for over 30 years - his passion for food and endlessly curious personality

drive him to create novel dishes and flavour combinations.

With his unique fusion style of Pan-Asian dishes, Chef Philip is always

searching for new ideas and is dedicated to creating unforgettable dining experiences.



To order any of the above dishes, please say: "M'goi, (dish name in Chinese)"
To view Hong Kong's MTR map, please click here.
No copyright infringement is intended