7 BEST PLACES FOR HONG KONG- STYLE MILK TEAS
FOODIE
You can't check off your Hong Kong bucket list if you haven't tried a Hong Kong-style milk tea.
Listed as one of the Intangible Cultural Heritages of Hong Kong 2017,
this authentic cup of delight cannot be missed!
Lan Fong Yuen (Central)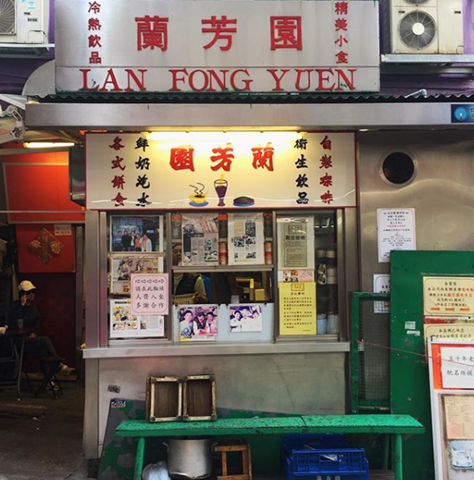 Photo credits: maying1023 (Instagram)
Could you guess the secret to Lan Fong Yuen's fame? The secret ingredient is pantyhose filter.
The unrivaled creamy smooth taste of the milk tea, is because of its unique filter.
That is why Lang Fong Yuen stands as the historical symbol of Cha Chaan Tengs for almost half a century.
Other Must-Trys: Authentic Pork Chop Bun, Chicken Chop with Instant Noodles with Drink, Hong Kong Crispy Bun
2 Gage St, Central, Central and Western District Shop
Tel: +852 2544 3895
Hoi On Café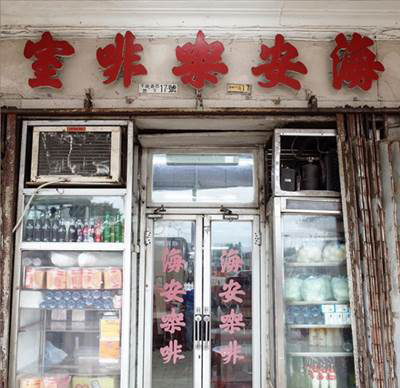 Photo credits: andrewniou (Instagram)
Listed as one of "The 38 Essential Hong Kong Restaurants", Hoi On Café is a traditional cold drinking
Cantonese café that arouses nostalgia from the 1950s. It is also called as "Bing Sutt"
which literally means "Ice room". While only a few "Bing Sutts" remain, Hoi On Café strongly holds its position
with its rustic and old-school layout, where you could experience the 1950s Hong Kong.
Other Must-Trys: Minced Beef Scrambled Eggs on Toast, Cubed Honey French Toast with Butter,
Pineapple Buns with Butter.
號地下 17號, 17 Connaught Road, Sheung Wan
Tel: +852 2540 6340
Shui Kee Coffee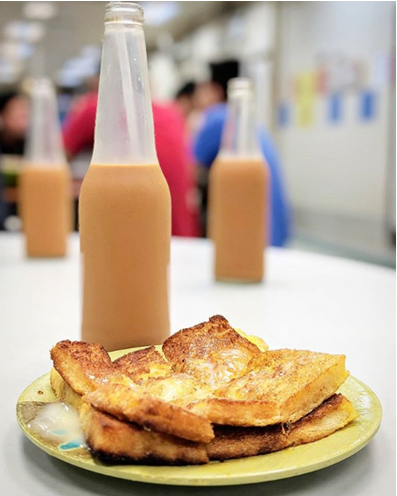 Photo credits: maying1023 (Instagram)
Want to get the full experience of a local?
Hidden in the hawker center of the old Municipal Services Building in Sheung Wan,
Shui Kee Coffee is one of the local's most loved places. Family run for more than 60 years, experience their one and only
silky flavored iced bottled milk tea which is rarely served in other Dai Pai Dongs (Hong Kong's outdoor food stall)!
Other Must-Trys: Hong Kong-style French Toast, The Beef & Egg Bun, Beef &Egg Sandwich
Shop 17, 2/F, Sheung Wan Municipal Services Building, Sheung Wan, Hong Kong
Tel: +852 2850 8643
Kam Wah Café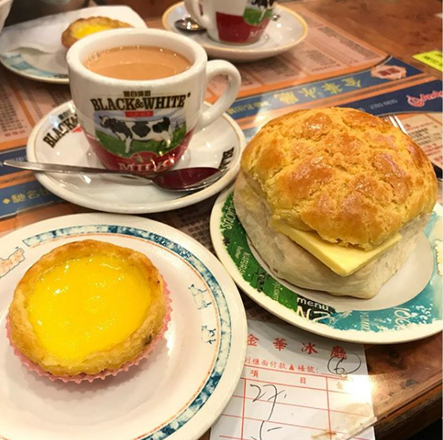 Photo credits: akiramujinahk (Instagram)
In addition to its title of having the best pineapple buns in Hong Kong, Kam Wah Café
is also well known for its perfectly matching buttery milk tea.
Loved by both locals and tourists, long queues are common even in non-peak hours.
Other Must-Trys: Kam Wah Polo Bun, Egg Tart, Club Sandwich
47 Bute Street, Prince Edward (太子弼街47號地下)
Tel: +852 2392 6830
Yue Hing (Central)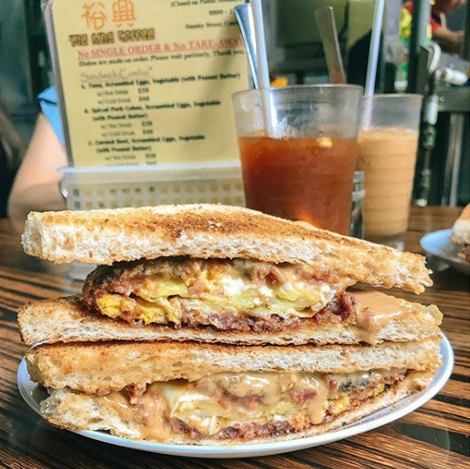 Photo credits: maxinechann (Instagram)
As one of the few remaining milk tea Dai Pai Dongs in Hong Kong Island, Yue Hing is another longtime favorite by the locals.
Made one at a time for its best taste, dishes sell out if you are not an early bird. The recommended time to get a seat is around 9- 9:30 am!
Other Must-Trys: Sandwich Combo with Toppings of Your Choice
Mrs. Tang Café: Waso Café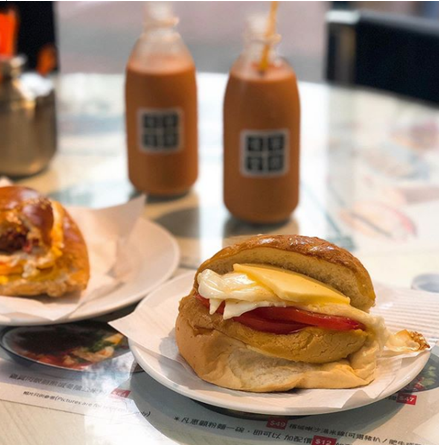 Photo credits: food_stoppp (Instagram)
Want something more than milk tea and "just" a pineapple bun? Mrs. Tang Café is here to grant your wish.
This café has a legendary specialty- pineapple butter bun richly stuffed with tomato and eggs.
A bite of this bun, washed down with the café's "champagne" milk tea, a type of milk tea in a chilled bottle that keeps
the thick concentration of the tea, presents an unforgettable taste.
Not to worry if you can't make your trip to Yuen Long, they also have branches in Wanchai, Kwun Tong and Tsim Sha Tsui.
Other Must-Trys: Chicken Wings & Meat Loin & Egg Rice Noodles w/ Tom Yum Gong,
Luncheon Meat and Egg Sandwich, Macaroni in Rich Tomato Soup
Yuen Long, New Territories Hang Tau Tsuen, Ping Shan屏山坑頭村
Tel: +852 2617 2232
Australia Dairy Company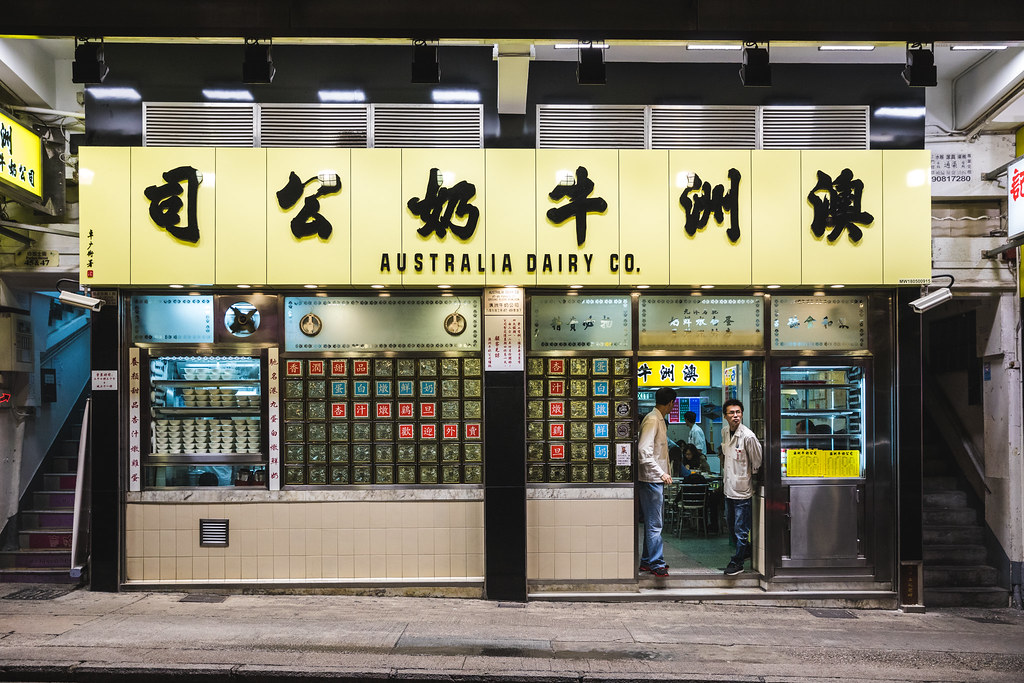 Just in case you were wondering, Australia Dairy Co is not actually Australian.
Infact, contrast to its name, it is one of the most classic Cha Chaan Tengs in Hong Kong.
Along with its steady best seller: milk tea, it is iconic for its fluffy scramble egg that is acclaimed to be the "best on Earth".
Remember to go early to avoid long queues, reminder that it closes on Thursdays!
Other Must-Trys: Steamed Milk Pudding, Macaroni Soup with Ham
G/F 47-49 Parkes Street, Jordan, Hong Kong
Tel: +852 2730 1356
To view Hong Kong's MTR map, please click here.
No copyright infringement is intended