A HOTEL UNLIKE ANY OTHER

We strongly believe so. We are the spirit of Hong Kong. The city is our home; the people our investors. Hotel ICON is a Kowloon hotel that was founded by the School of Hotel & Tourism Management at Hong Kong PolyU to serve tourism, benefit the community and showcase the best of our great city. We provide a world-class learning environment for students and jobs in Hong Kong for local talents who shares the same belief with us. This is why we consider ourselves ambassadors of Hong Kong and why we embrace its rich culture. Uniquely among hotels, Hotel ICON was born to develop and innovate within the hospitality industry; it's a responsibility we accept with energy and pride.
We help extraordinary individuals develop their uniqueness by taking them through an unforgettable learning journey. You'll find at Hotel ICON a team of dedicated and creative minds that are passionate about producing the extraordinary.
"WE LOVE TO CARE" TRAINING PROGRAMME
We established our "We Love to Care" Training Programme to genuinely inspire and develop existing and emerging talents for the hospitality industry, and to create a unique and memorable experience for its international rooms, local food, and beverage guests. The programme aims at "bringing brilliant together" by elevating the service quality of the existing 360 associates and interns.
We created the 3-day "We Love to Care" Training Programme with the purpose of enhancing the skills and knowledge of our interns and colleagues. Launched in 2017, our focus is to drive 'guest service excellence' and to help our team enhance their self-awareness and emotional intelligence at work.
By including empathy in our training programmes, we encourage our associates to take into account the experience and perspective of their colleagues, especially when resolving issues, managing conflicts and leading their teams towards greater innovation and higher productivity.
Celebrating Individuality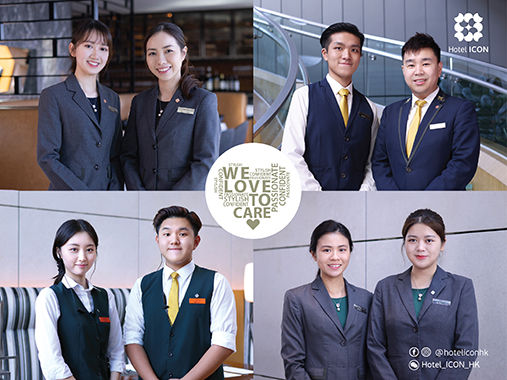 At our hotel, we celebrate individuality because that is what defines us. We set out to be unique and stand out from the crowd. We created a hotel that embodies the best of Hong Kong - our super-modern, neon city. We ensure that all of our team reflect our philosophy. They are confident, responsive and will deliver exactly what you want with style and energy. Furthermore, whilst our eye is always looking to the future, our senses are deeply rooted in the best traditions of Asian hospitality. We believe in balance - and keeping things simple to make life a little less complicated.
We are all about Haute style and architectural cool. The creative buzz of Hong Kong has inspired our every detail from design and art to food. We are, in turn, both sophisticated yet informal, observant but always respectful. We are cultural, spiritual and philosophical, and we believe that Hotel ICON is the place where the seasoned traveller can slip into something more comfortable.
For more information, please contact Human Capital at 3400 1174, or send your resume via WhatsApp: +852 6479 4024
Email: joinus@hotel-icon.com