Arts in Hotel: Beyond Looking Posh
ART & CULTURE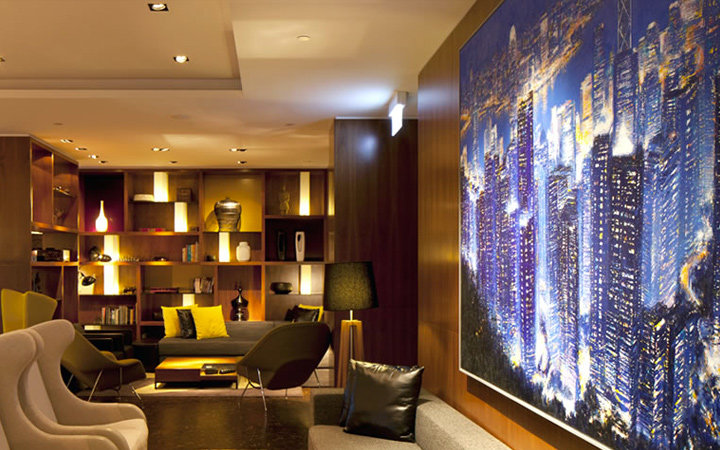 Art has always had a presence in hotels – whether it's in the form of interior design or sculptures and paintings that grace the hotel lobbies and corridors. What has changed over time is the role that art plays in the hotel industry.
Long gone are the days of art for the sake of having art, where art pieces were merely there to avoid blank walls, or when the same mass-produced prints are dotted in every room of a franchise.
Hoteliers are now more than ever intentionally and meticulously discerning what goes on display in the hotel's public spaces. Why? Because the behaviours and expectations of travellers and guests have changed fundamentally. Their priorities have shifted, even more so since the pandemic. For instance, factors such as safety and security and the stay experience have become much more important than prices, discounts and loyalty points when selecting a hotel. Guests are expecting more than just top-notch hospitality from their hotel stays and they are in search of authentic, personalised and localised experiences. These changes have driven hotels to rethink what their guests really want and are shaping how hotels design their services and guest experiences in order to find that competitive edge to set them apart.
Today, when simply having an aesthetically-pleasing environment is no longer enough, leading hotels are keen to curate a top-class experience with unique hotel art that reflects who they are in their spaces.
Besides creating visually-stimulating hotel spaces, incorporating well-thought-out pieces of artwork help to fashion meaningful interior design and offer an elevated and immersive guest experience.
FINDING PURPOSE IN HOTEL ART

Dao Gives Birth to One by Hung Keung

To paint a full picture of the story, art pieces have to be seamlessly integrated into the interior design. By incorporating artworks within the hotel's interior design from the very beginning, the result is not just an enjoyable and harmonious ambience throughout the property, but the building itself becomes a vessel that tells guests about the brand's vision and the city's spirit.

The minute guests arrive at Hotel ICON, they walk in and see the multi-storey-high work by local digital media artist Hung Keung. Inspired by a Daoism passage and questioning how modern society interacts with the concept of the ancient "Dao" philosophy, the work is made up of strokes of deconstructed Chinese characters.

Iron gates skirting cafe Green as part of Interior Design Director William Lim's design

Next to the pillar artwork are the elaborate handcrafted iron gates flanking the lobby's cafe Green. The thoughtful touch pays tribute to a fading artform and Hong Kong's architectural traditions. Together with Hung Keung's work, they reflect Hong Kong's cultural spirit, as well as Hotel ICON's passion for local culture, art and design.

ART THAT APPEALS TO EVERYONE APPEALS TO NO ONE

Cloud Valley by Kan Tai Keung in Timeless Lounge

"Respect for diversity and individualism also calls on us to not be all things to all people,"said Vallois Choi, Director of Marketing of Hotel ICON, on the key to creating bespoke guest experiences. The same goes for curating hotel art.

"Hotel art needs a focus in order to bolster the brand narrative and blend perfectly in with the running culture of the hotel." Hotel ICON uses the principle of Yin-Yang to resolve hotel's planning and materiality. From interior design to curated art pieces, design and artworks avoid being generic and provide a resolution to elements that may otherwise be considered counterintuitive.

Three Heroes by Tsang Chui Mei at Above & Beyond Private Dining Room 3

Each hotel space, be it a restaurant or a lounge, has its purpose. Hotels can enhance the experiences guests have in these spaces by leveraging the arts' ability to evoke emotions. To instill a sense of calmness, calligraphy work was selected for our Timeless Lounge, a space where guests unwind and relax. Nancy Chu Woo's Aubergine is put on display in the private dining room of The Market, creating a sense of refined elegance and giving the dark colour scheme of the room a pop of colour.

AN ARTISTIC APPROACH TO HOSPITALITY

Chow Chun Fai's Cityscape at Above & Beyond Executive Club portrays the city's dense urban environment

Art is a great storytelling tool. And as travellers want to learn about the societies they are visiting, art becomes a way for them to learn about the stories of the city.

Hotels are oftentimes where one of the first interactions overseas guests have with the local people and culture. This opens up opportunities for hotels to design their different touchpoints in a way that tells those stories and encourages connections. Local art adds a touch of warmth, authenticity and community.

Curating Hotel Art

Aubergine by Nancy Chu Woo at The Market

Selecting art is an art in itself. Luckily, for hoteliers who may not possess the skillset or experience to curate art collections, hotel art curators are here to fill the gap. Art curators are industry experts who possess not only a wealth of knowledge on art but also understand the unique needs of hotels, helping hotels build a distinctive visual narrative by curating a unique art collection that embodies the ethos of the hotel and achieves the desired ambience.

Typically, a hotel defines a common thread in a hotel's collection. When well-executed, the art pieces, individually and collectively, echo and accentuate the brand's identity.

At Hotel ICON, renowned Hong Kong designer Freeman Lau curated the hotel's eclectic artwork collection that is set to reflect the brand's commitment to local creativity and innovation. When asked about the curatorial concept, "I wanted to give a comprehensive picture of the creative industry here in Hong Kong." said Mr Lau, adding that "the aim is to show a diverse group of artworks so that guests can get a taste of the different elements in the creative sector."

Fortune 60 by Cheung Yee

Currently, the hotel houses over 100 pieces of original works by some of Asia's best talents, including Cheung Yee, Kan Tai-Keung, Nancy Chu Woo, Hung Keung, Pauline Lam, William Furniss, John Fung, Chow Chun Fai, Tsang Chui Mei and Terence Lee. Throughout different floors and spaces in the hotel, guests will find themselves surrounded by a collection of masterpieces that reflects Hong Kong's cultural spirit.

Fashion shoot by students from the Institute of Textiles & Clothing (ITC) of the Hong Kong Polytechnic University

Apart from masterpieces by renowned artists, carefully selected pieces by local talents are displayed across the hotel's guestroom floors. As a teaching hotel, Hotel ICON is an incubator for aspiring industry talents. Through Mr Lau's curation, the hotel is able to double up as a platform to showcase the works of budding local artists and engage them with a diverse and international audience, some of whom may never even wander into an art gallery.

As a luxury hotel in Hong Kong that takes a new look at hospitality, Hotel ICON is a confluence of art, design, and architectural and operational innovation. Here in the hotel, hospitality and artwork can work side by side to create a truly unique and memorable hotel experience where our guests can find a very strong interaction and connection. Find out more about our hotel art collection here.