Inside The Mind of Chef Philip Leung
FOODIE
In celebration of the newly-installed Chinese cooking furnace at The Market, we sit down and chat with Executive Chef Philip Leung, who shares his inspirations, his philosophy and his friendship with the highly anticipated celebrity guest chef James Wong.
Could you please tell me how you came up with this idea of an open-kitchen Chinese cooking furnace for The Market?
That has to trace back to a decade ago. At that time, I observed that the number of Indian restaurants in Hong Kong had begun to drop, except for the most authentic ones. Since then, I have been constructing new ideas for this day. So back in June 2015, I decided to propose the idea of replacing the Indian food station with a Chinese cooking furnace. There are a lot of procedures involved and many hurdles to overcome, but I am very happy that it is finally up and roasting!
Indeed, this furnace looks amazing! State-of-the-art! As far as I know, it is the only open-kitchen glass-windowed furnace for a buffet restaurant in Hong Kong!
There is another buffet restaurant with a furnace, but The Market is the only buffet restaurant that puts it in the open-kitchen, and has a glass-window on the Chinese cooking furnace for guests to see the cooking in action!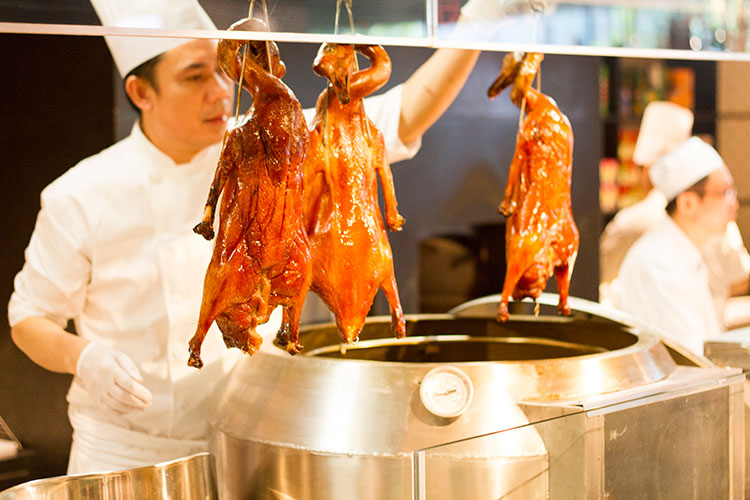 I think the glass window is a brilliant idea!
Yes! Since the 2000s, I had already asked myself these questions, "Why can't we see the food while it is cooking inside the furnace? Why must the chef climb up and look down at the food instead of looking at it at eye-level, like in an oven?" So I told an engineering company what I wanted and they designed it for me. As you know, goose is the main attraction that kicks off the new Chinese cooking furnace debut. Now our guests can actually see not only the roasting in action, but also the moment the product is freshly out of the furnace, as well as the moment our chefs are masterfully dividing it. The fragrance of the roast food, the charcoal-like aroma from the volcanic rocks we placed at the bottom of the cooking furnace, all retained in the juice of the goose meat. Our chefs then deliver the food to our guests' tables on a trolley. It is a highly aesthetic, aromatic and kinetic experience for our guests!
That really does stimulate the salivary glands! How many geese can the furnace roast each time and how long is the roasting time?
It can roast 8 to 10 geese at the same time. It is important to leave gaps between each one if you want crispy skin. About 45 minutes to roast, but the preparation time takes much longer, about six to seven hours. Our specialist chefs take care of the entire process.
Our guests are in love with the goose! Can we expect more?
Sure! We will be making full use of our new furnace! You can get ready to try some freshly roast cha siu and pork belly. My philosophy is to bring in signature food and ingredients from everywhere around the world into our buffet. Something that no buffet has ever done before and yet fits our theme as 'The Market'. So you don't need to go to ten different places to try ten different kinds of food. You just need to come to The Market!
Could you please tell me how you get to know Chef James Wong?
We met each other back in 1990 when he was a French chef at Regal Oriental, a time when Kai Tak Airport was still operating. He was already very active and creative. After that he was at the pre-opening of Panda Hotel, creating menus for their Italian restaurant and other chain restaurants … These are all my very good memories of him! Thinking about it now, I have known him for 28 years! Of course, now he is a celebrity chef on TV.
I heard that Chef James Wong has prepared a secret dipping sauce for your roast goose. Can you tell us a little about it?
This is a big secret that we want to keep, so I can't tell you now. You have to experience it yourself! What I can say is that it is unlike any other dipping sauce you have ever tried. It is going to be a fusion sauce.
Visiting Chef James Wong (黃耀勝)
Former executive chef and F&B consultant at 5-star hotels, famous restaurants, French cooking schools and social welfare organisations
Did you enjoy reading about Inside Chef Philip Leung's mind – cooking furnace, philosophy and Chef James Wong?
Tweet us at @hoteliconhk, we would love to hear your thoughts!
Date: August 9, 2018