HIRING IN 2022: KEY PRINCIPLES AT HOTEL ICON
OTHERS
Note: This blog was first published on 22 November 2021 on www.hotelsmag.com/blog/hiring-in-2022-key-principles-at-hotel-icon, where Richard has been invited to contribute a monthly blog.
From the first day of our iconic journey on September 21, 2011, Hotel Icon has been a hotel with a very special purpose. Not only does the hotel embody all the creative energy and spirit of Hong Kong, it is also a learning environment and a vision of hospitality for the future.
Contributed by Richard Hatter, general manager, Hotel Icon, Hong Kong
As the hotel's general manager and an adjunct associate professor at the Hong Kong Polytechnic University (PolyU), I talk to many students, faculty and guests and I can assure you that guests are pleasantly supportive, especially in view of the fact that all profits go back to education. So, they sense that the hotel is a hotel with a purpose, they view the hotel as progressive in terms of R&D and trying out new things.
Here are some of the principles we've built and share with our team so they can be the heart and fabric of our hotel.
Establishing a creative vision
Hotel Icon was strategized, designed and built with the blessings of various co-creators and celebrity figures who are contributors to the larger society, including architects, artists, designers and botanist Patrick Blanc. The stories of creator's successes with the aim to showcase Hong Kong's culture is portrayed through marketing, but really it is native to our DNA and an idea that our new hires, future hoteliers and creative innovators are seeking – an inspiration. Hiring during the recovery from COVID in 2022 has to pave the way for candidates to help them see the transformations that can take place in this environment.
Identifying our niche
The hotel houses one of the world's only integrated teaching facilities, with over 2,000 students. Some of our hires go to become restaurant managers and entrepreneurs in the field, and showing the paths to their personal achievements pleases me greatly.
Wholly owned by PolyU, Hotel Icon was the first Hong Kong-based hotel to be awarded the 2016 The Pacific Asia Travel Association (PATA) Gold Award in Marketing. The hotel also won the 2017 PATA Grand Award in Education and Training for its 'Being Brilliant Together' initiative and the 2019 PATA Gold Award Winner in the 'Education Training' category with its 'We Love to Care' training program, and thus strengthening Hotel Icon's reputation as being fully committed to developing tomorrow's leaders today.
Highly authentic
Hotel Icon has real personality and that goes from the design, infrastructure, services and most importantly, the staff. Myself and the team describe authenticity as "Providing an experience consistent with values of trust, honesty and empathy, creating inimitable and personalized service interactions."
Coming from a corporate branded company for 18 years, I understood that in crafting the service culture and brand narrative, Icon couldn't be generic. The entire service design of what we call 'experience design' needed to be customized to Icon's brand narrative and mission so that every guest experience demonstrates the very personalized approach.
Listening, feedback
Our 'We Love to Care' program has been a strong, ongoing concept at the epicenter of the program. Our custom-designed program allows the hotel organization to relate the training back to our new performance management system, providing flexibility in the program's delivery.
Hotel Icon, as a teaching and research facility, breaks down service into three areas: Technical-skill excellence, aesthetic excellence and emotional excellence. Building upon three areas of excellence, feedback amongst management is consolidated and shared frequently, and is encouraged without reservation.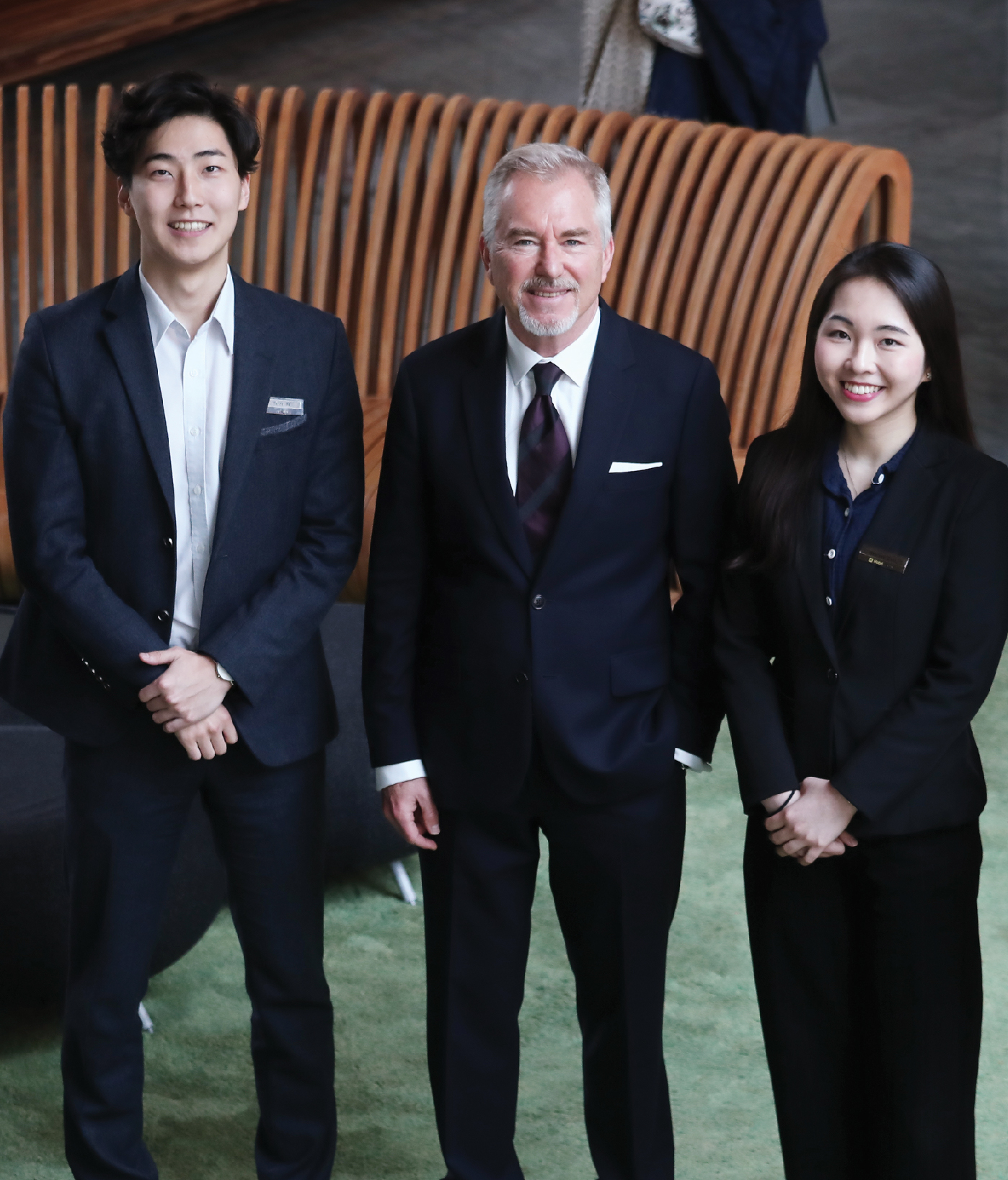 Hotel Icon GM Richard Hatter (center) with student intern and elite management trainee
Social skills 101
Many of our team members are student interns or young employees under the age of 28. It was concluded that many young Hong Kong staff and students weren't equipped with the social behavioral skills necessary to interact confidently and that training and examples with role playing was required. Entry-level youth in Hong Kong simply don't know how to interact and behave with guests or how to create memorable experiences, let alone how to really connect with guests who may have originated from any one of 15 to 20 countries and cultures.
Every new employee or intern has a mentor or coach who helps them on the job, explaining how to maintain consistency of standards, and helping to ensure that guests are both welcomed and anticipated in a natural and local way.
At the same time, they are schooled first-hand on how and what to do when something goes pear shaped, and how to manage chaotic and fluid situations. They are trained on how to politely deal with aggressive guests or guests threatening to leave one-star TripAdvisor reviews, no shows, late check-outs.
Idea meritocracy
As we don't have a corporate office, much of the creativity and innovation is largely driven by myself as the leader of the team, and with small groups of elite students from PolyU. We are a small, independent stand-alone hotel, and we think like a start-up.
Creativity is rewarded and those individuals who display eagerness to experiment will share their stories of creating memorable experiences to the rest of the team. These stories are ranked, judged monthly and are rewarded with money, and those star players are earmarked for fast track promotions. The results are staggering and the team loves sharing their stories and getting recognized by management.
Learn to read
Probably most important is using a CRM system to study guest profiles and how to use that data to formulate creative ways to pamper and create unique experiences for guests who might be passionate about food or cars or photography. All along, we use the system to take great care of loyal repeat guests as well as demonstrate Asian hospitality and sincerity in a humble manner without being cocky.
One might argue that as Hotel Icon is a hospitality laboratory of sorts – that we have a different set of KPIs. But no, we must also be commercially astute and are constantly monitoring and benchmarking against the best in class in our competitive set.
Reviewed by guests
In our industry, some things can only be learned on the job. Then, our student workers go back into the classroom and do a post-mortem around what worked and what didn't. What's unique is that the guests, whether in F&B or rooms, have no idea. They discover Hotel Icon is about education as they stay in the experience. They discover the hotel is no different than any other upscale top hotel in the world with caring doormen, paperless seamless check-in, phones answered on the first ring, and crisp clean as new pin housekeeping. Guests reviews fuel the development of staff and are openly discussed as necessary to grow and improve.
As a hotel unlike any other, we continue to strive for excellence, making stays here utterly memorable and pleasurable and provide students with a dynamic and interactive training ground in a 5-star hotel.
In 2022, we will continue to build upon these principles we've built and get these values across to every individual on our staff quickly during pre-hire and ongoing training.