Hong Kong Museum Guide: 11 Must-See Highlights at the M+ Museum
ART & CULTURE
For art and cultural lovers, here's a new art landmark in Hong Kong that you can't afford to miss out on — the M+ museum. Situated in the West Kowloon Cultural District, just a 20-minute ride from Hotel ICON, M+ is Hong Kong's new museum of visual culture, which opened to the public in November 2021. Recently it just welcomed its one-millionth visitor.
Aimed to rival the Tate Modern, New York's MoMA and the Centre Pompidou in terms of the breadth and importance of its collections, M+ museum exhibits twentieth and twenty-first century visual culture encompassing visual art, design and architecture, and moving images. Here's a quick guide to some must-see highlights you shouldn't miss out on.
1. The Building (Architecture) & the Facade

Photo credit: West Kowloon Cultural District

The M+ museum is one of the world's largest museums of modern and contemporary visual culture. Designed by Herzog & de Meuron in partnership with TFP Farrells and Arup, the building comprises a podium and a slender tower that fuse into the shape of an upside-down 'T'. Its 17,000 square metres of exhibition space holds thirty-three galleries, three cinema houses, the Mediatheque, Learning Hub, and Roof Garden that faces Victoria Harbour. Apart from the interior, a LED lighting display system is integrated into the facade, serving as a gigantic screen for works of art, visible across Victoria Harbour.

3. Kiyotomo Sushi Bar

Photo credit: M+

The Kiyotomo sushi bar, designed by Japanese furniture and interior designer Kuramata Shiro, first opened in Tokyo's Shinbashi district in 1988. It was once a popular gathering spot for architects and designers during a period of economic expansion in Japan. Although the restaurant eventually closed down in 2004, years later, it's now acquired by M+ Hong Kong as a part of its design collection. The Kiyotomo sushi bar is also one of the very few works of interior design by Kuramata which remains intact, and a prime example of the designer's playfulness and restraint. Its interior combines a rich, refined approach to materials and texture with playful shifts in colour and shape.

5. Works by "King of Kowloon"

Photo credit: M+

Tsang Tsou-choi, who calls himself the "King of Kowloon", claimed that he had studied his ancestral tree and became convinced that he was the rightful owner of the territory of Kowloon. He began to mark the streets of Hong Kong with his distinctive ink graffiti at the age of 35, scrawling his claims to sovereignty over the territory's postal boxes and lamp posts. His calligraphy has inspired many Hong Kong fashion designers, art directors or even interior decorators. Although Tsang died in 2007, some of his works have found their new permanent home at the M+ museum.

7. The Letter Writing Project

Photo credit: M+

Taiwanese artist Lee Mingwei started "The Letter Writing Project" after his maternal grandmother passed away in 1998. He felt there were still many things he wanted to share with her, but it was too late. He then decided to share his thoughts and feelings with his grandmother through writing letters, as if she were still alive. Visitors are also invited to write the letters they had always meant to but never taken time for. They can then seal and address their letters for posting by the museum or leave them unsealed on the wall of the booth, where later visitors can read them.

9. Works by Photographer Fan Ho

Photo credit: M+

Born in Shanghai and later emigrated to Hong Kong in 1949, Fan Ho is one of the most influential Chinese photographers and film directors of all time, winning over 280 awards from international exhibitions and competitions worldwide for his photography. While much of the Hong Kong of the 1950s and 1960s captured by Fan Ho no longer exists, it can still be experienced through his photographs of the time at the M+ museum.

2. Sigg Collection

Photo credit: M+

The M+ Sigg Collection is an extract from Swiss collector Uli Sigg's private collection, which has been documenting the development of Chinese contemporary art since the early 1990s. It's now also one of the world's largest and most comprehensive collections of contemporary Chinese art. Its unrivalled holdings of 1,510 works, from painting, printmaking, sculpture to digital art, chronicles the development of Chinese art over the past four decades. The exhibition is going to take you on an artistic walk through modern Chinese history, starting from the end of the Cultural Revolution, through China's economic reforms of the 1980s, the urbanisation of the 1990s and up until the twenty-first century.

4. CRUCIFIED TVS—NOT A PRAYER IN HEAVEN

Photo credit: M+

If you are looking for a video installation work at M+ Hong Kong, CRUCIFIED TVS—NOT A PRAYER IN HEAVEN is the one to visit. Created by the South Korean-American artist duo YOUNG-HAE CHANG HEAVY INDUSTRIES, this commanding five-channel video sculpture is intended to offer a meditation on power and the meaningless madness of the world. The artists combine their own texts with mostly self-composed jazz music into rather simple Flash animations. The repetition of text across five screens recalls a television news ticker repeating the same information over and over or the cyclical feeds of online news reporting on warfare and civil unrest.

6. Conserving Neon Culture

Photo credit: M+

Colourful neon signs are undoubtedly an iconic symbol of Hong Kong as a vibrant city through their representations in film, visual art and many other cultural forms. There's in fact so much to investigate about these signs, from their design, typography, engineering and craft. Since 2013, M+ has been acquiring neon signs from the streets of Hong Kong to preserve as many before their inevitable disappearance from the city's visual landscape.

8. Gary Chang's "Domestic Transformer"

Photo credit: M+

Do these "nano-flats" resonate with you? Living in high-density, hyper-urbanised environments is a global phenomenon in today's world, and a biographical account of Hong Kong architect Gary Chang's domestic life from childhood until now. The five architectural models expressed Chang's continued experiment in the extreme conditions of Tight Space. Coded M-1976, M-1988, M-1989, M-1998 and M-2007 respectively, each corresponds to his age at 14, 26, 27, 36 and 45.

10. The M+ Shop

Photo credit: M+

Extending beyond the exhibitions, The M+ Shop provides a moment for visitors to reflect and respond. Here you can not only find curated products and publications within the Discover Pavilion, you may sometimes also discover serendipitous goods from the "Pai Dong".

11. YAYOI KUSAMA'S "YAYOI KUSAMA: 1945 TO NOW"

Photo credit: M+

Yayoi Kusama emerged as a global cultural icon for the twenty-first century by pursuing her uncompromising avant-garde vision. Featuring more than 200 works, including paintings, drawings, sculptures, installations, and archival material, the exhibition "Yayoi Kusama: 1945 to Now" is the largest retrospective of the artist in Asia outside Japan. The exhibition opens from 12 November 2022 until 14 May 2023 and is one you don't want to miss!
More extraordinary works await you at Hotel ICON…!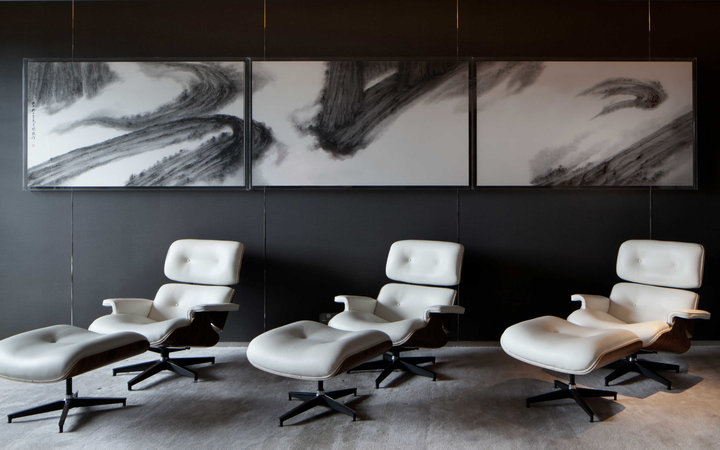 What you might not know is that, not just M+, Hotel ICON also features works by some of Hong Kong's most creative talents, such as William Lim, Barney Cheng and Kan Tai-keung. If you are interested in visiting the M+ museum, don't forget to make reservations through M+'s designated online reservation platform.
As well as being home to over 100 masterpieces, Hotel ICON is a luxury hotel in Hong Kong that celebrates Hong Kong's finest – from fabulous food to impeccable 5-star service. We welcome guests who share our love and passion for art, culture and design to a hotel experience unlike any other. Check out our stylish accommodations and the latest offers now!