8 Events You Need to Experience Yourself in Hong Kong
ICON-GUIDE
23 August 2019
Hong Kong has become one of the most dynamic cities in the world and is known as the events mecca of Asia. With an abundance of exciting happenings and captivating events throughout the year, there is always something going on. Here are 8 diverse events which you must experience for yourself as they attract the interest of friends and families from all around the world.
Event 1: Hong Kong Chinese New Year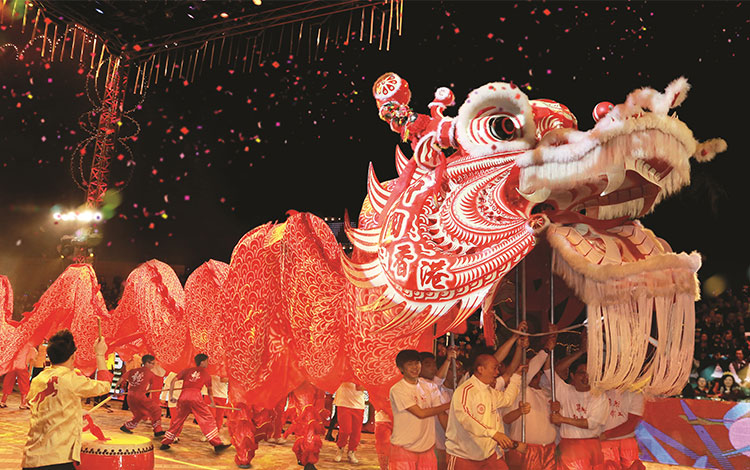 Those who have experienced it will tell you just how lucky they were to have been in Hong Kong during Chinese New Year, the biggest and most colourful festival! Immerse yourself in the true local culture of Hong Kong with an astonishing parade of floats while exploring festive markets selling auspicious foods and blooms. Immerse yourself in the heart-pounding action at the Hong Kong Chinese New Year Race Meeting, one of eight "Magnificent Race Days" being waged in the Sha Tin Race Course and one you should not miss if you are in town! Get caught up in the energy of this magnificent event as you squeeze through crowded temples to pray for good fortune,
admire red lanterns that adorn the city, observe a simply mind-blowing fireworks display, and so much more…
TIP: Be sure to book accommodation in advance during this festive period. Reserve a room at the Hotel ICON here.
Date: From 25–27 January 2020
Venue: Everywhere in Hong Kong!
Event 2: Hong Kong New Year Fireworks and Countdown Celebration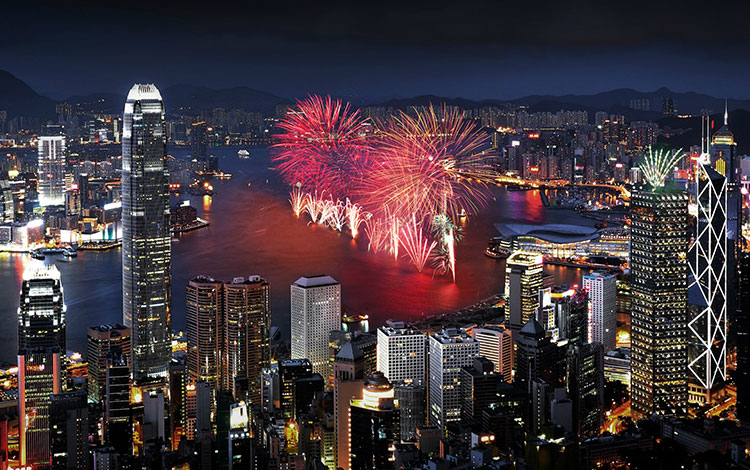 The Hong Kong New Year Fireworks and Countdown celebration is one of the cities most premier and anticipated events of every year. Get ready to party away and meet the New Year with a bang through an unforgettably spectacular countdown and fireworks display which lights up the city over the radiant Victoria Harbour. Whether you watch it along the shoreline, from a boat on the harbour or on-high in a skyscraper, it's worth planning early!
Hotel ICON's prime location along the Victoria Harbour has made it a perfect location to view the incredible fireworks display during this event so be sure to reserve your place at the always high-in-demand Annual Pool-Side Party on the 9th floor at Hotel ICON as the date comes nearer.
Date: 31 December 2019
Venue: Victoria Harbour
Tickets: Visit the Hotel ICON's Offer Page one month prior to the event
Event 3: Hong Kong Dragon Boat Carnival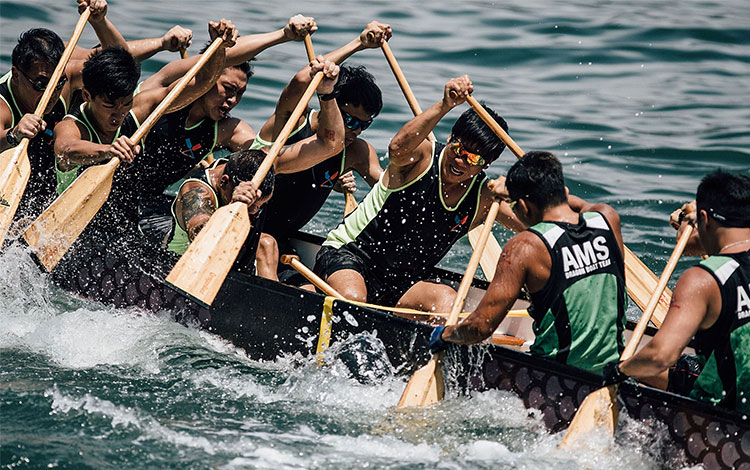 Boats, beers and cheers of hundreds of thousands of spectators, that's the Hong Kong Dragon Boat Carnival!
This annual ancient Chinese tradition brings together thousands of the world's top dragon boat athletes who battle it out at the Hong Kong International Dragon Boat Races. Here, spectators can enjoy three days of intense racing, filling the harbour with heart-pounding action. Experience an abundance of colour and sounds as drummers and fans cheer paddlers on to the finish line under the modern skyline of Victoria harbour.
Only Hong Kong could take an ancient Chinese tradition and transform it into a modern sport and international party!
Date: 26 – 28 June 2020
Venue: To be Confirmed here
Event 4: Hong Kong Rugby Sevens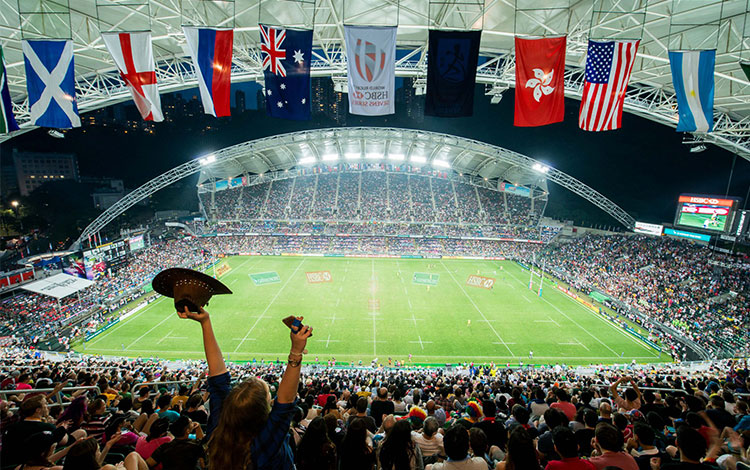 Photo Credits: Facebook Hong Kong Sevens
The Hong Kong Rugby Sevens is one of Hong Kong's biggest weekends, attracting some of the world's greatest rugby players and tens of thousands of fans to enjoy a chock-full of events and revelry. Since its modest beginnings in 1976 as a means to boost rugby's presence in Asia, the Hong Kong Rugby Sevens has developed into one of the biggest rugby events on the international sporting calendar. Every year, teams from the world's top rugby nations battle it out in lightning-fast 15-minute matches in front of 40,000 emotional spectators. The thrills and excitement at Hong Kong Stadium is merely the epicentre of a city-wide carnival like no other. Start planning your trip for the Hong Kong Rugby Sevens 2020 and be quick because tickets and accommodation are always in high demand!
Date: 16 – 18 October 2020
Venue: Hong Kong Stadium So Kon Po, Causeway Bay
Tickets: Visit their Official Website for more information
Event 5: Hong Kong Wine & Dine Festival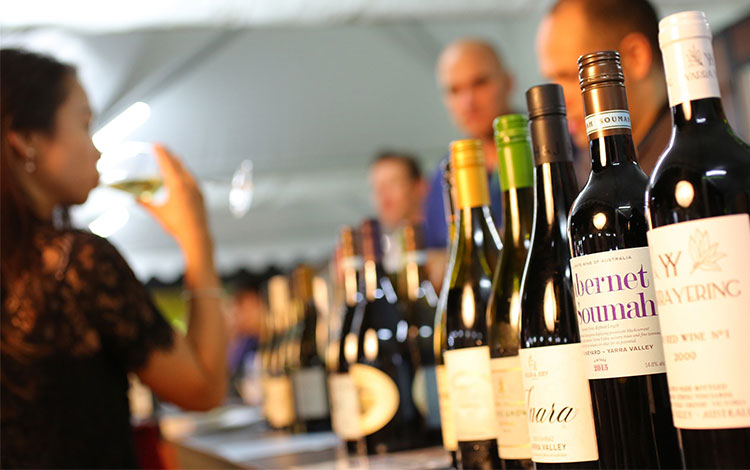 Another unmissable event is the Hong Kong Wine & Dine Festival which brings together world-class food, drinks and live music with a backdrop of the stunning Victoria Harbour skyline. At this event, your palate will be overwhelmed as you stroll through 400 booths serving world-class food and drinks from around the globe. The event also hosts unimaginable wine-pairing meals designed by master chefs and tasting classes by industry experts. Come and celebrate the world's finest flavours in Hong Kong!
Date: 31 October till 3 November 2019
Venue: Central Harbourfront
Tickets: Advance purchase of various wine passes and tasting room programmes will be available in early October. For more information visit this website.
Event 6: Hong Kong Cyclothon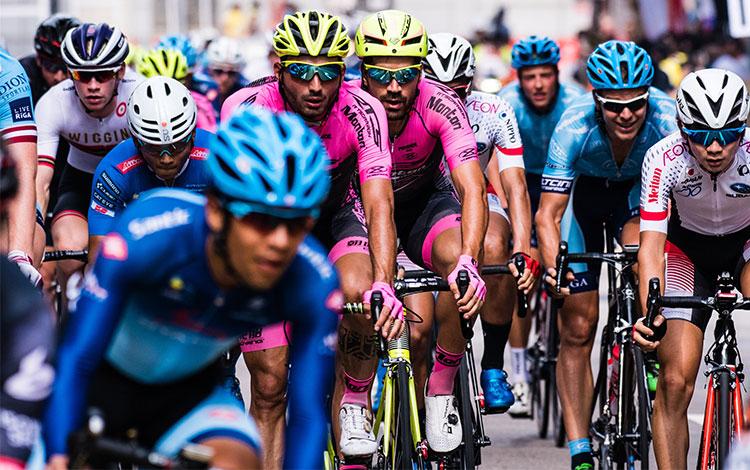 Kicking off on the morning of the 13th of October 2019, the Sun Hung Kai Properties Hong Kong Cyclothon has brought together thousands of amateur and professional riders from all over the world. Push yourself to the utmost or enjoy the city's scenery on long, leisurely rides. Cheer along with locals and visitors while enjoying the laid back and fun-filled carnival.
Date: 13 October 2019
Venue: Salisbury Road at the scenic Tsim Sha Tsui Promenade
Route Details: Learn more here.
Event 7: HKTDC Food Expo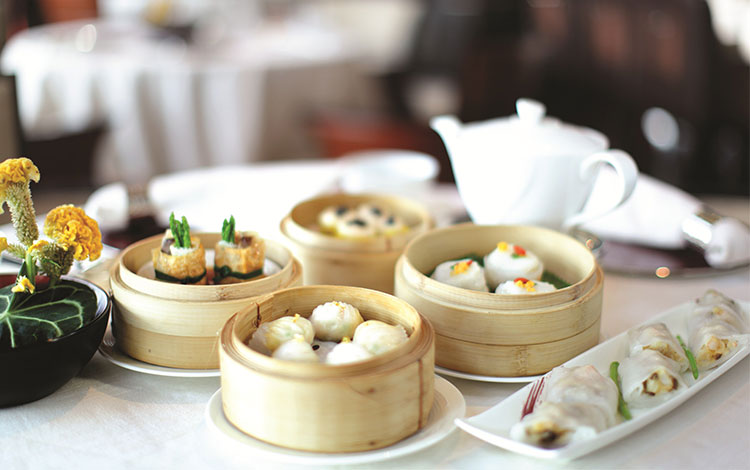 Loosen your belt buckles, because Hong Kong's Food Expo reinforces the city's reputation as the culinary capital of Asia. Get ready to meet hundreds of thousands of food lovers who gather to sample gourmet treats from all over the world, as well as salivate over live performances by international experts, including Michelin-starred chefs. As a true melting pot of gastronomic creations from the East and West, Food Expo also gives a delicious insight into Hong Kong's fascinating local dining scene.
Date: 15-19 August 2019
Venue: Hong Kong Convention and Exhibition Centre
Time: 10am to 10pm, 15-18 August 2019; 10am to 6pm, 19 August 2019
Event 8: Hong Kong Arts Month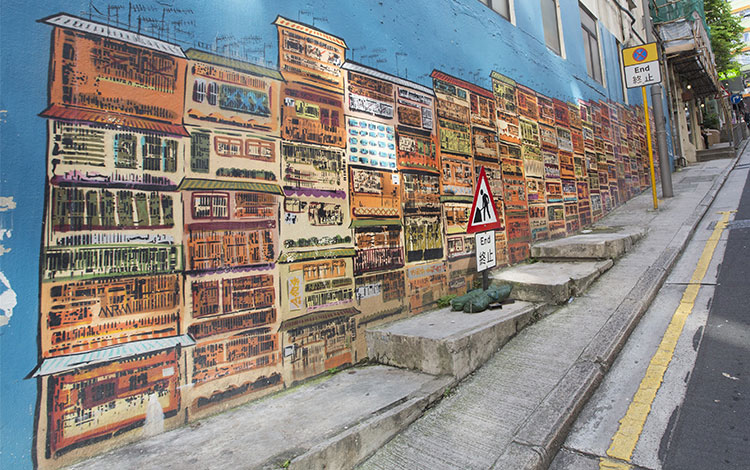 Every March, Hong Kong reiterates its credentials as the cultural capital of Asia with a journey enriched by diverse art encounters in the city, where local and overseas artists meet to bring about inspiring programmes, including exhibitions, dance, music, theatre and more. Throughout this month, the city becomes a dynamic international venue for a perplexing multitude of art exhibitions from top artists to newcomers looking to build their names.
During this event, Art Basel is a major event, followed by Art Central and the Asia Contemporary Art Show and a vast array of exciting associated satellite shows. There are so many things to see and do over the month, it is a challenge to decide what to fit into this limited time.
Date: March 2020
Venue: Everywhere in Hong Kong!
Planning on visiting Hong Kong during any of these periods and looking for a stylish accommodation option in the centre of the city, overlooking the breathtaking view of Victoria Harbour? Then book your stay at Hotel ICON now and enjoy our Book Direct Added Benefits!
To view Hong Kong's MTR map, please click here.