Novel Coronavirus (COVID-19) Precautionary Measures
OTHERS
Last updated: 05 Oct 2021
Committed to our "We Love to Care" service philosophy and safeguard the health and safety of everyone at Hotel ICON, extensive hygiene measures have been implemented, such as UV light air purification system, Quantum-dot photocatalyst coating from airDefender™, negative-pressure rooms, HEPA air filter to supply hospital grade air quality, and more. Hotel ICON is the first hotel certified with IEQ (indoor Environment Quality) for all hotel guest areas. Hotel ICON has also become Sharecare Health Security VERIFIED™ with Forbes Travel Guide for more than 360 standards across health and hygiene protocols.
Installation of Thermal Scanner at Hotel Entrance

In view of the Coronavirus (COVID-19) outbreak, since 31 January 2020, all staff members and newly arrived guests are requested to measure their body temperature upon check-in via a thermal scanner placed near the entrance. The thermo-vision researcher camera is an accurate and intelligent infrared vision system used worldwide in a variety of industries – enabling the detection of real-time subtle temperature variations. This is an ideal choice for our hotel to ensure accurate non-contact temperature measurements get carried out smoothly and effectively. And the device is set to activate a warning lamp to alert our concierge staff during unmanned period, as an extra precautionary step.

Guest's temperature being checked upon entering the hotel's dining outlets.

New standards on Hygienic Practices

New hygienic practices have been introduced and some reinforced to protect guests and employees from a possible virus infection, included but not limited to the following.

Travellers who are experiencing any symptoms of fever, breathing difficulty, coughing or sore throat, then it would be wise and caring to the others to promptly seek medical advice and remain at home until fully recovered.
All front of house staff should wear surgical masks during their duties.
Staff and guests are encouraged to apply alcohol-based disinfectant hand rub dispensers that are installed at all three restaurants and the hotel public areas.
UV Light air purifiers are installed in The Silverbox Ballroom and The Market
airDefender™ antiviral coating works have been applied to hotel premises, utilising technology that inhibits bacteria and virus growth that lasts for 12 months.
Equipped with the HEPA air filter to supply hospital grade air quality and be IEQ (indoor Environment Quality) certified. (By December 2020)

Hotel ICON has become Sharecare Health Security VERIFIED™ with Forbes Travel Guide.

Hotel ICON achieves health security verification from Sharecare and Forbes Travel Guide. The comprehensive verification covers more than 360 standards across health and hygiene protocols, cleaning products and procedures, ventilation, physical distancing, the guest experience, and health safety communication with guests and employees.

Plastic films are installed onto all lift panels, and sanitized every hour by Housekeeping staffs.
A health and travel declaration form is obtained from each check-in guest for record. Manager-on-duty shall refer all sick guests or suspicious cases to proceed to the hospital or the nearest clinic for medical check before checking in to the hotel.
Main entrance and carpets at the hotel's lobby are sprayed with qualified disinfectant every hour.

Hotel ICON reserves the right to deny entry to any person who has visited the outside HK, Macau in the past 21 days.

Thermal Infrared Camera placed next to hotel entrance

Safeguarding Dining Experience at all Three Restaurants

For our Food & Beverage outlets, different measures from food preparation to dining experience have been implemented to ensure food hygiene safety.

Temperature checks are conducted before entering the dining outlets.
All three dining outlets' table arrangement has been adjusted to 1.5m distance from each other.
Maximum of 12 people are allowed per table at all three dining outlets
Restaurants are closed at 10pm, and various takeaway and in-room dining options are available.
Mask envelopes are given out to each guest dining at all three restaurants for temporary mask storage.
All chefs are required to wash and sanitize their hands frequently (every hour).
Chefs are required to wear surgical masks with goggles at all times and wear gloves when handling food items.
Staffs have received two doses of COVID-19 vaccine, plus an interval of 14 days after the second dose.
All buffet or semi-buffet food are served in smaller portions and are replaced or replenished approx. by every 30 minutes to avoid contamination.
All tableware including salt & pepper shakers, toothpick holders, sugar container, tent card holders, menus and bill folders are cleaned and sanitized on a daily basis.
All crockery and utensils used at the buffet counters, including tongs, spoons and under liner are changed and sanitized every 30 minutes.
Disinfecting wet wipes are given out to replace normal wet wipes at all restaurants and function areas.
Dining tables and chairs are sanitized with designated disinfectant before serving new guests, so guests can find a pleasant and safe dining experience at all restaurants.
Above & Beyond Lounge will be closed, and Club rooms cocktail and afternoon tea are served in our restaurant.

Precautionary measures for Events & Catering

We have intensified Covid-19 measures according to the latest Government regulations and Hotel ICON's catering services are operating to the highest levels of safety vigilance and health.

All catering staff members from all event venues have been fully vaccinated against COVID-19, plus an interval of 14 days after the second dose.
Reinforced temperature checks before entering event venues remain to be required for your safety.
Visit records using Leave Home Safe app are required before entering any venues.
While Banquet services of 240 persons are allowed, 12 persons max to be seated at the same table.
Staffs have received two doses of COVID-19 vaccine, plus an interval of 14 days after the second dose.

The safety and well-being of our guests are our top priority at all times. The above safety measures are implemented in order to keep peace of mind while celebrating your big day with us.

Cancellation Policy during Covid-19

In view of the current and evolving COVID-19 situation, for guests who made reservation directly through our website or with our reservation team, cancellation charge will be waived for cancellation 48 hours before 2pm check-in time. Any room packages that include restaurant reservations, cancellation must be made 72 hours in advance. Guests can refer to the terms and conditions on our package offer page. A standard one-night fee will be applied for any late cancellation.

As health and wellbeing of everyone at our hotel takes center-stage at Hotel ICON. Our team is well-prepared and is dedicated to uphold the cleanliness of our hotel. Hotel ICON looks forward to welcoming guests to the hotel and vibrant Hong Kong in the near future.

To learn about our operation and service updates, click here.
STAY HERE, STAY SAFE
13 High-touch, Deep Clean Areas in Guest Room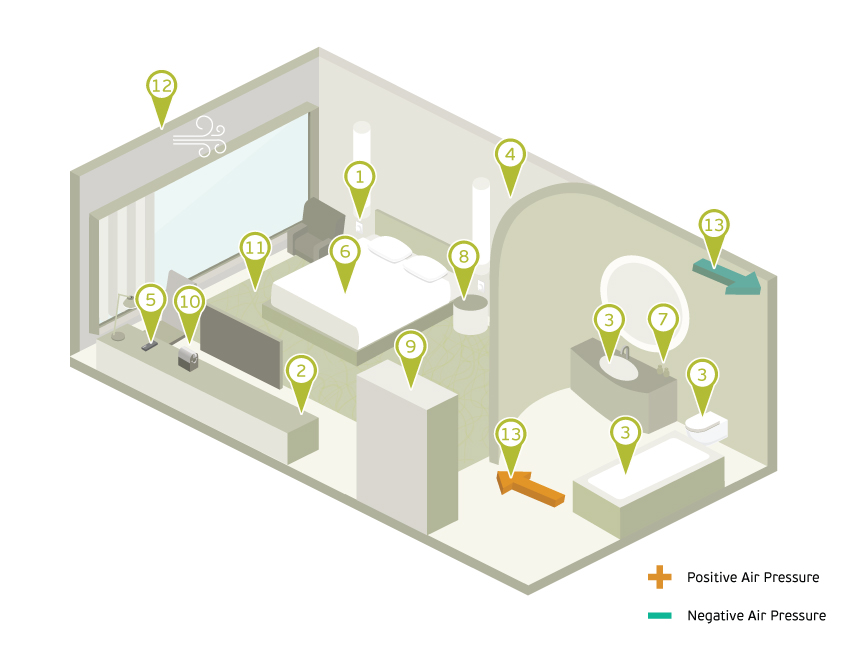 1. SWITCHES & IN-ROOM CONTROLS

Lights, lamps, switches and control panels

2. HANDLES & KNOBS

Doors, closets, drawers, furniture knobs and

drapery pull handles

3. MAJOR BATHROOM SURFACES

Toilet seat, flush lever, splash walls,

shower/ tub/ basin faucets

4. THERMOSTAT

5. TELEPHONES AND REMOTE CONTROLS

Handsets, dial pads and function

Buttons

6. BED & BEDDING

All bed linens including duvet covers,

pillowcases and sheets have been changed and

treated at high temperatures to kill bacteria

7. BATH AMENITIES

Soap dispensers, individual toiletries, tissue

boxes, soap dishes and amenity trays

8. HARD SURFACES

Tables, desks and bedside tables

9. CLOSET GOODS

Iron, hair dryer, safe handle and keypad

10. IN-ROOM FOOD AND BEVERAGE

Cutlery, glassware, ice buckets, mini bars, kettle

and Nespresso coffee machine

11. FLOOR AREA & RUG

The floor has been thoroughly mopped.

An aerosol germicide has also been sprayed on

top of the rugs for disinfection purposes

12. IN-ROOM AIR QUALITY

Each room is equipped with individual air conditioning

and ventilation system in which air will be pre-treated

with UV light air purifiers to eliminate pollutants and

bacteria. Fresh air intake and exhaust air outlets are

also set 5 metres apart from each other to reduce the

risk of cross-contamination

13. AIR PRESSURE

Negative air pressure is applied in all guest rooms as

an isolation technique to prevent cross-contamination,

as air will naturally flow from areas with higher

pressure to areas with lower pressure, thereby

preventing contaminated air from escaping the room