Hong Kong Date Ideas: Romantic Things to do in Tsim Sha Tsui
ICON-GUIDE
When it comes to romantic places in Hong Kong or romantic things to do in Hong Kong, many couples often overlook their options on the Kowloon Peninsula. Hotel ICON is keen to show that a lively and bustling district like Tsim Sha Tsui can nonetheless be the perfect romantic escape for couples. From Hotel ICON's Room for Romance indulgent package to a magical helicopter ride over the Victoria Harbour, if you're looking to share a magical, romantic experience with your significant other, we've got you all covered with these incredible Hong Kong date ideas around our neighbourhood.
1. A Picnic at West Kowloon Art Park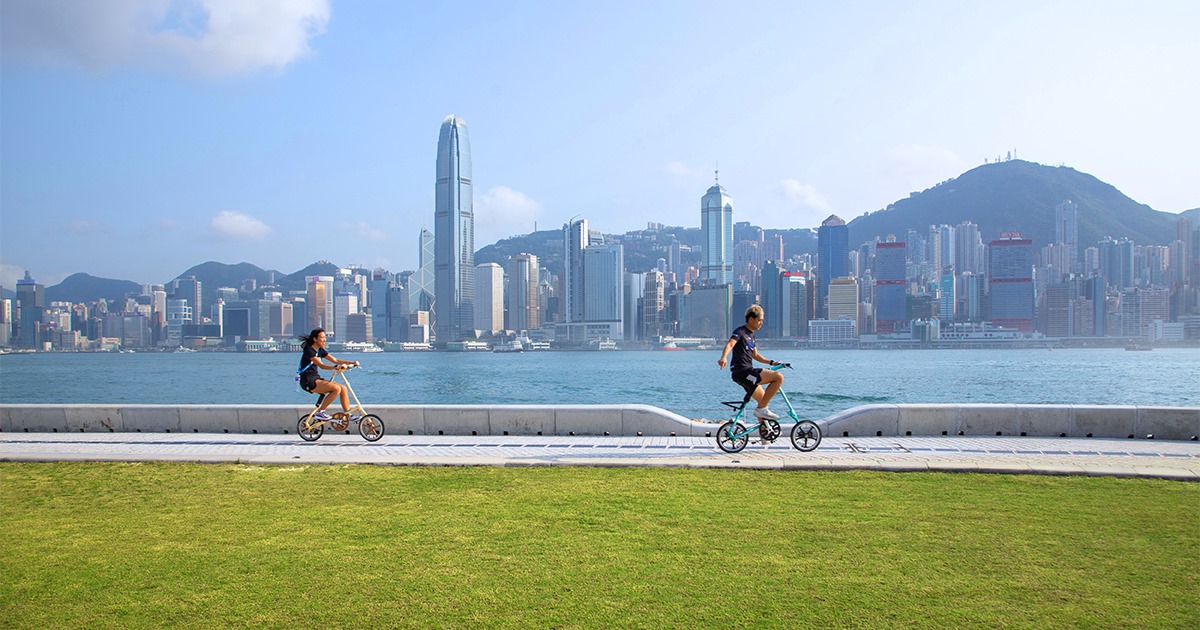 Photo credit: West Kowloon Art Park (Facebook)
In need of a little escape right in the heart of the city? Head over to the West Kowloon Art Park, where the pet-friendly waterfront park will prove to be a getaway from the hustle and bustle of the city. Not what comes to mind immediately when you think of romantic places in Hong Kong, but here, the busy Tsim Sha Tsui traffic is muted, so you can spend some quiet and quality time with your loved one. Pack a picnic basket, read a book on the lawn or capture your other half through the lens at Instagram-worthy spots throughout the park– spending an afternoon here is one of the most popular Hong Kong date ideas among locals. Nearby, you'll find performance and exhibition venues, a live house, the newly opened M+ museum and an array of restaurants and cafes along the promenade. If you're eco-conscious like Hotel ICON, the park's bike-sharing programme allows you to rent a bike as a sustainable means of getting around in the District.
Art Park Opening Hours: 6am to 11pm daily (with exceptions)
SmartBike Operating Hours:
2pm – 7pm (Tuesday to Friday), the last ride departs no later than 6pm
10am – 7pm (Saturday, Sunday and public holidays), the last ride departs no later than 6pm
Closed on Mondays (except public holiday)
Directions: Exit from MTR Kowloon Station Exit E4 or E5. Walk along Nga Cheung road and cross the footbridge into the West Kowloon Cultural District.
To end the night in the most special of ways, head down to one of the local eateries and seaside restaurants, as you watch the sunset on the Hong Kong horizon.
2. Sunset at Sky100 - Hong Kong's Observation Deck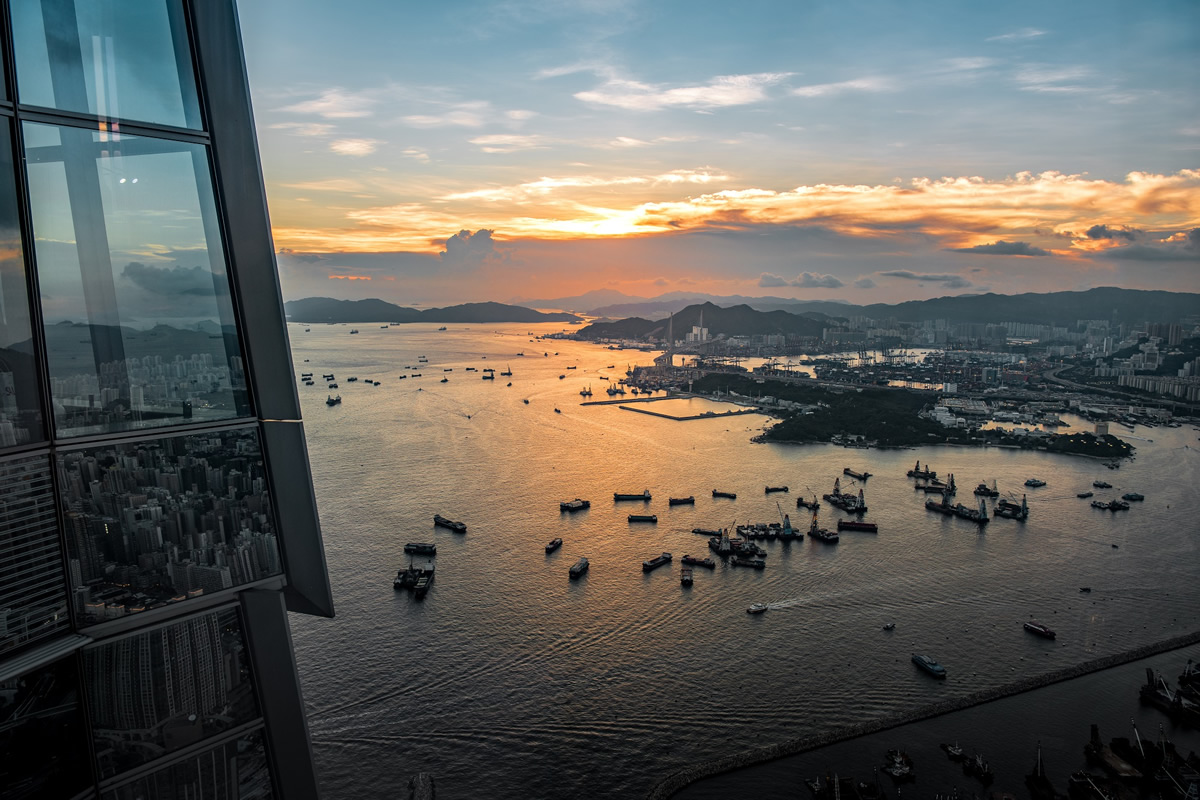 Photo credit: Sky100 (Facebook)
There is something magical about sharing a mesmerising sunset with your other half, and it is no doubt one of the most romantic things to do. Hong Kong's Observatory Deck - Sky 100, is situated in the tallest building in Hong Kong, International Commerce Centre (ICC). An elevator ride will whisk you up to the 100th floor of the building in just 55 seconds, and you will step out onto the 360-degree indoor observatory deck that offers panoramic views of Hong Kong Island, Victoria Harbour and the Kowloon Peninsula. Spend a relaxing afternoon savouring made-to-order treats at the cafe, or casually stroll among interactive displays that tell the story of Hong Kong, and wait for the golden hour. The sunset here is unmatched. As the night falls, the world-renowned skyline and Victoria Harbour will be beautifully lit, truly a sight to behold.
Opening hours: 11am - 8pm daily
Location: 100/F, International Commerce Centre (ICC), 1 Austin Rd W, West Kowloon, Hong Kong
Directions: Take Exit C of Kowloon station. From 2/F, Metal Zone at ELEMENTS Mall, access a direct walkway leading into sky100.
3. Romantic Evening Harbour Cruise at Victoria Harbour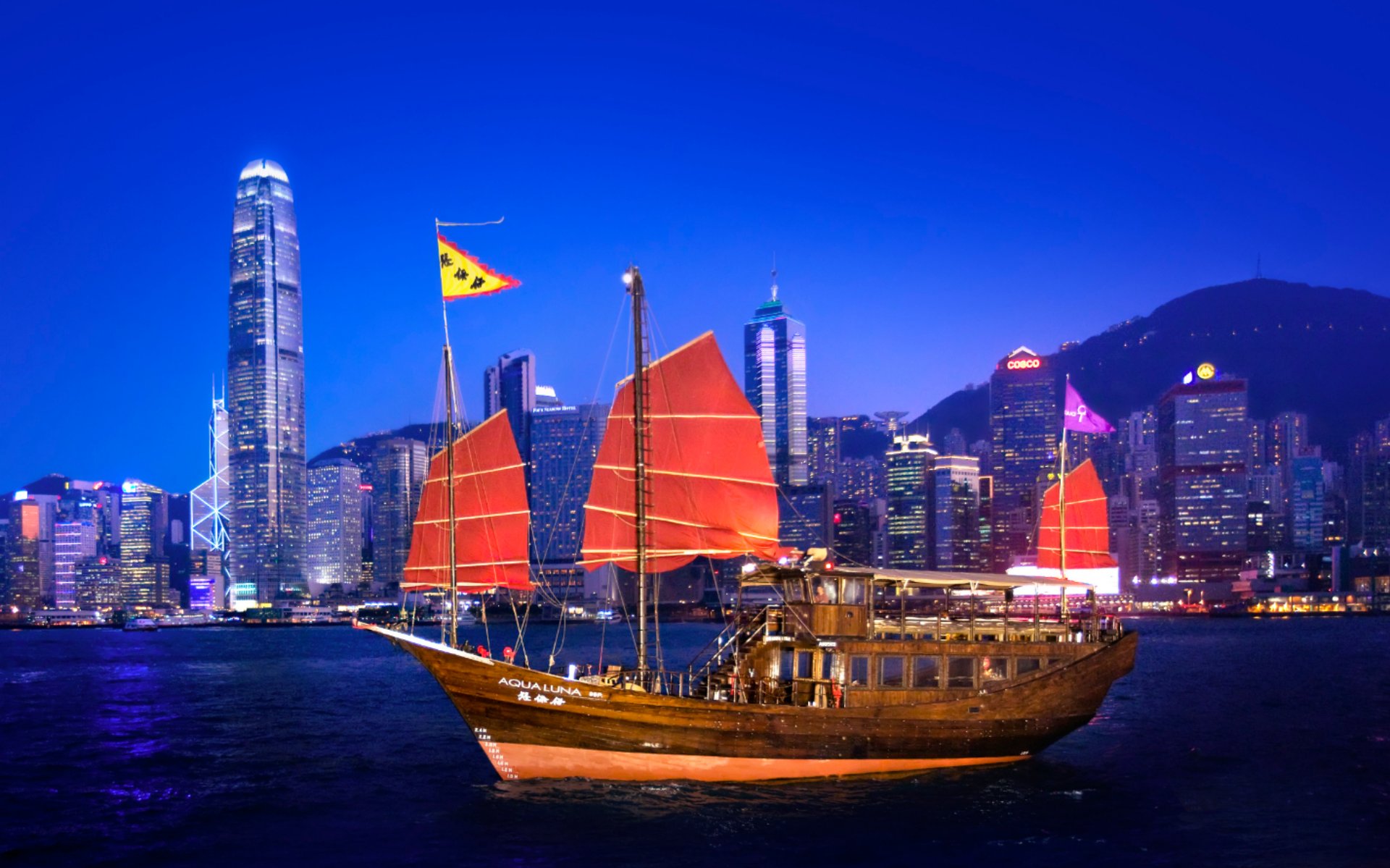 Photo credit: Aqua Luna
If chasing sunsets against the stunning skyline from high-up and afar isn't quite enough, Aqua Luna experiences might float your boat. Sail along Victoria Harbour in a traditional wooden Chinese junk boat with your loved one on Aqua Luna's Sunset Cruise to see the harbour sparkles as the evening sun sets over the horizon while sipping a Sundowner cocktail. Harbour cruises sail daily, each tour lasting approximately 45 minutes. For online bookings, click here.
Location: Tsim Sha Tsui pier 1, Tsim Sha Tsui, Hong Kong
Tel.: +852 2116 8821
4. Take Your Breath Away on a Helicopter Sightseeing Tour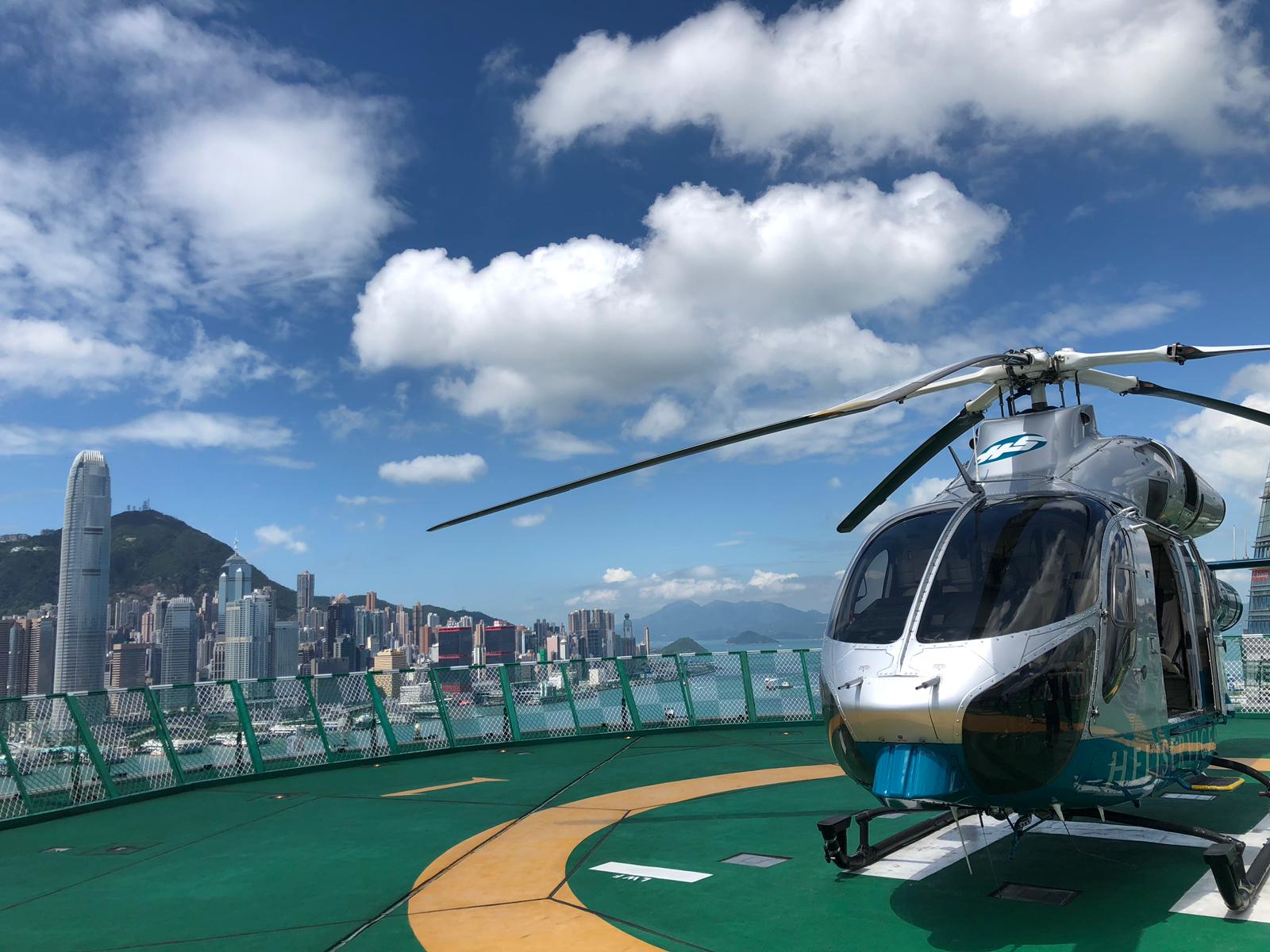 Photo credit: Heliservices Hong Kong (Facebook)
Celebrating a special occasion or an anniversary? Looking for unique and romantic things to do in Hong Kong? This ultimate Hong Kong date idea will surpass every expectation your significant other has in mind. Take your relationship to the next level, literally, and surprise them with an exhilarating and captivating helicopter sightseeing tour! Look at Hong Kong's remarkable skyscrapers and landscape from a whole new perspective and create special moments you will both never forget. A tour around Hong Kong Island and over the Victoria Harbour lasts approximately 18 minutes. Book online or at the booking office at Star Ferry Pier in Tsim Sha Tsui.
Booking Office: Shop KP 9C & 40, 1/F Star Ferry Pier, Tsim Sha Tsui
Tel: +852 2802 0200
5. Room for Romance, Hotel ICON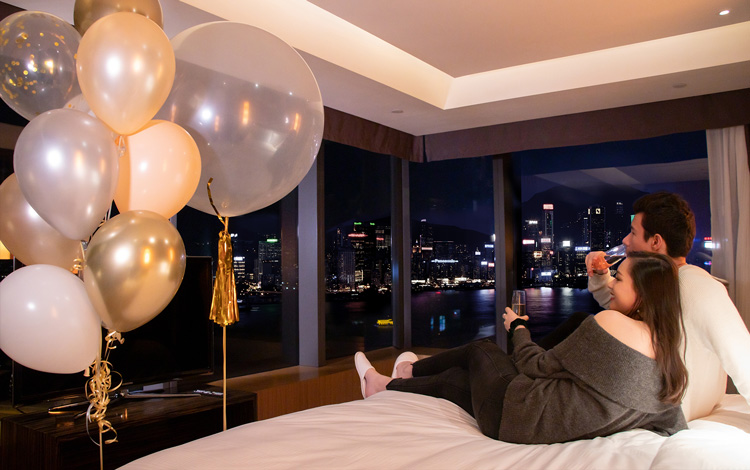 Hotel ICON continually tops the charts as "the most romantic hotel in Hong Kong for Eco-friendly couples", find out why by spending a night at our stylish and modern guest rooms, which will be bound to impress you and your special someone! At Hotel ICON, we always have an offer that goes around for romantic couples. Enjoy sweeping views of the Victoria Harbour or the Kowloon Peninsular alongside an array of tailored services and experiences like decoration services, in-room 4-course dining, breakfast for two and more with one of our room packages. Our 860 sq. ft. Club 80 Harbour Suite is perfect for those extra special occasions with a 280-degree view of the stunning Hong Kong skyline and state-of-the-art in-room amenities.
As one of the most romantic places in Hong Kong, many couples choose to celebrate their union of love at Hotel ICON. Whether you prefer an elegant, intimate wedding ceremony or stylish Chinese banquet at our Silver Ballroom, our team at Hotel ICON is here to ensure every moment of your special day is magical and memorable.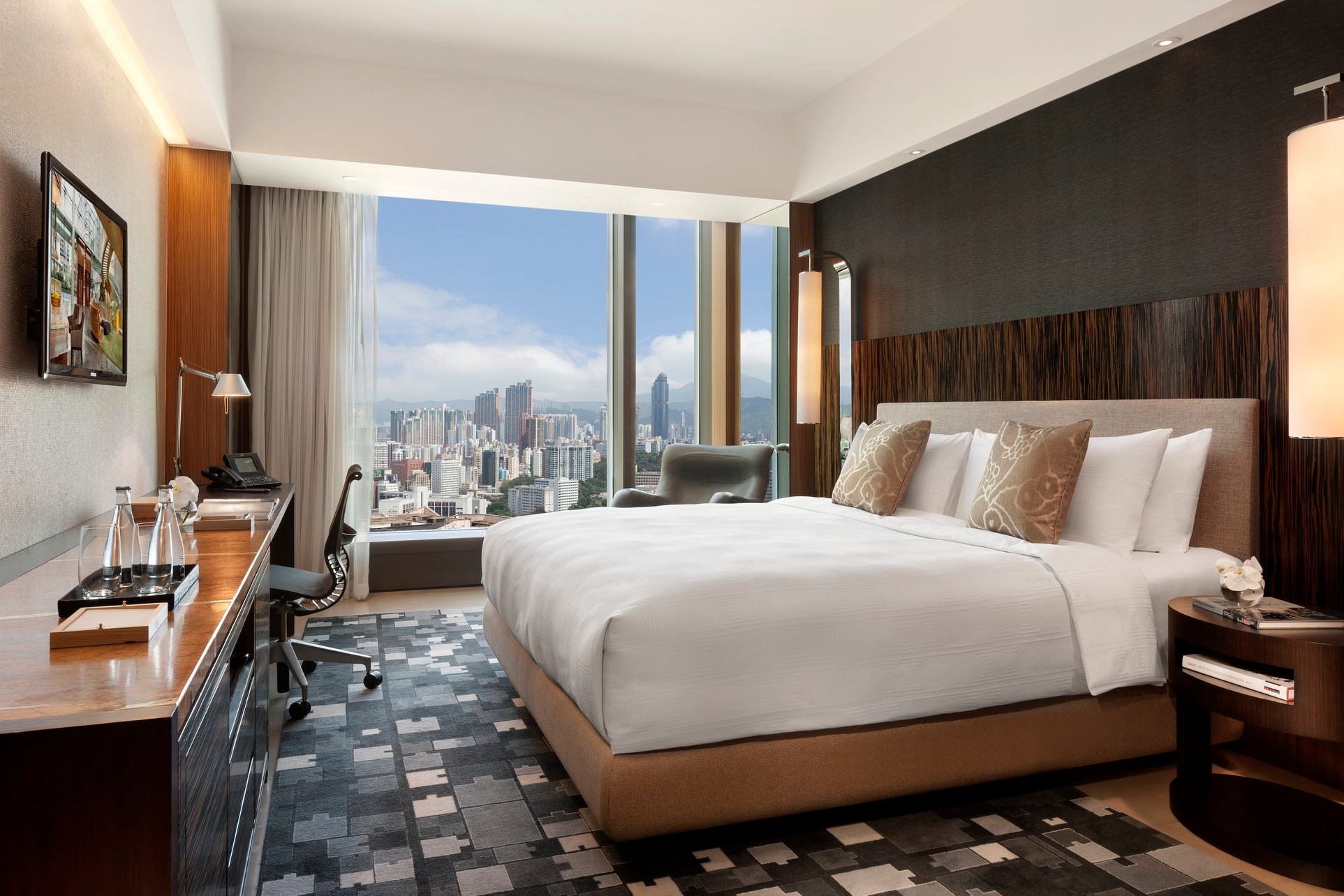 Plan a Date With Hotel ICON
Whether you're planning a honeymoon staycation or a romantic date night dinner in Tsim Sha Tsui, book with Hotel ICON, a luxury 5-star hotel in the heart of Hong Kong. Our dedicated hotel team is committed to creating long-lasting memories for our guests. Located right in the heart of Hong Kong's city centre in Tsim Sha Tsui, Hotel ICON houses hundreds of guest rooms and suites offering sweeping, unobstructed views of Tsim Sha Tsui Promenade and Victoria Harbour and surrounded by plenty of romantic things to do. Book now!