Malaysian Durian Festival 2021
Carrying the title of "King of Fruits", the famous durian is packed with nutritional value and high levels of fiber. Our Executive Chef Danny Ho also known as the "Durian Prince" carefully sourced seasonal and freshly harvested durians directly from his home town, Malaysia, crafting an array of intensely-flavoured savouries and sweet delights from the finest durians.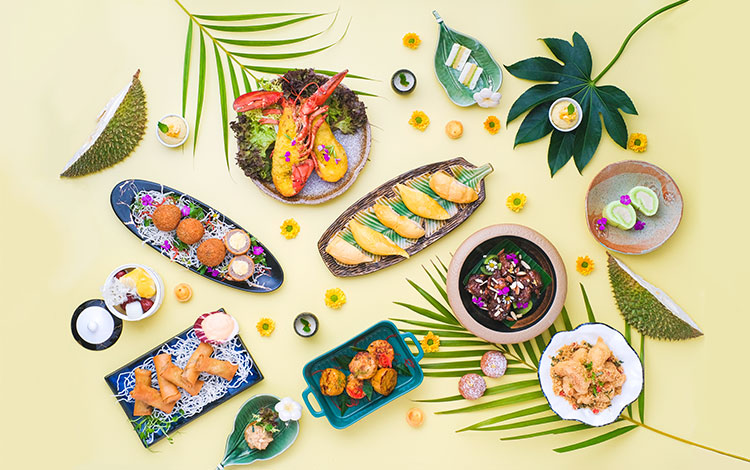 Located on the first floor of the hotel, Silverbox Ballroom will become the perfect venue for hosting the renowned Durian Brunch Buffet, showcasing sixteen creative durian hot dishes and desserts alongside traditional Malaysian and International cuisines. A perfect paradise for every durian and buffet lovers!
Three special highlights including the famous Malaysian Durian Platter, the nourishing Double-boiled Durian Soup and the Crunchy Baked Boston Lobster Stuffed with Durian (half portion) will be available in one portion per person and served straight to your table. The Malaysian Durian Platter consists of five different types of durians freshly imported from Malaysia including D197 Mao Shan Wang, D175 Red Prawn and D163 Horlor from Penang, D101 Golden Flesh and for the first time in Hong Kong, the "mystery" durian recommended by our Acting Executive Chef Danny Ho. (Children will receive a platter with two types of durians.)
The Durian Brunch Buffet also features six other durian savouries including the Baked Spicy Prawns Otak-otak with Durian Spring Roll, Stir-fried Pork Ribs with Durian Coffee Sauce, Crispy Cereal Prawn with Durian and Salted Egg. Durian aficionados can dive into seven mouth-watering durian-themed desserts ranging from Thai Mango and Durian Sticky Rice, Durian Cheese Cake and the Malaysian Durian Ice cream, to stimulate your taste buds in the most extraordinary way.
As we journey through, the brunch buffet also includes other popular buffet delicacies from the chilled seafood counter and fresh Sashimi. Guests may also enjoy free-flow house wine, sparkling wine, juices, soft drinks and Häagen-Dazs™ ice cream.
Durian Brunch Buffet
Date: 16, 23, 24, 31 July & 6, 7, 8, 13, 14, 20, 21, 27, 28, 29 August
Time: 11:45am - 3:00pm
Venue: 1/F, Silverbox Ballroom, Hotel ICON
Prices: HK$780* per adult | HK$480* per child (aged 3 – 11)
(Full payment is required upon reservations)
Reservations Enquiry: (852) 3400 1388

WHAT'S ON