Chinese New Year Celebrations
Chinese New Year Pudding
The ideal gift for family, friends, colleagues, and clients. The divine puddings featuring premium ingredients were created by our modern Cantonese restaurant Above & Beyond and will be released in three exclusive flavours – including Brown Sugar Pudding, Turnip Pudding with Yunnan Ham and Preserved Meat, Taro Pudding with Conpoy and Preserved Meat. Available from 4 January until 4 February 2019 and priced at HK$268 per box, each pudding will be beautifully packaged in a custom gift wrapping made of eco-chic cloth material created by Hong Kong designers Polly Ho and Andy Wong of Loom Loop. The design features an elegant goldfish design accompanied by a red colour to bring luck, prosperity, and longevity to your loved ones.

Chef's Recommendation for Chinese New Year
Available from 1 February to 19 February 2019, Above & Beyond presents you a series of symbolic dishes that harmonize with the Chinese wishes for the upcoming year!
Marinated Shredded Crispy Skin Chicken with Pomelo
Braised Sea Cucumber with Dry Shrimp Roe and Pomelo Peel
Deep-fried Prawn with Spicy Salt
Braised Asparagus with Conpoy and Bamboo Piths
Braised Goose Web with Japanese Mushroom and Fish Maw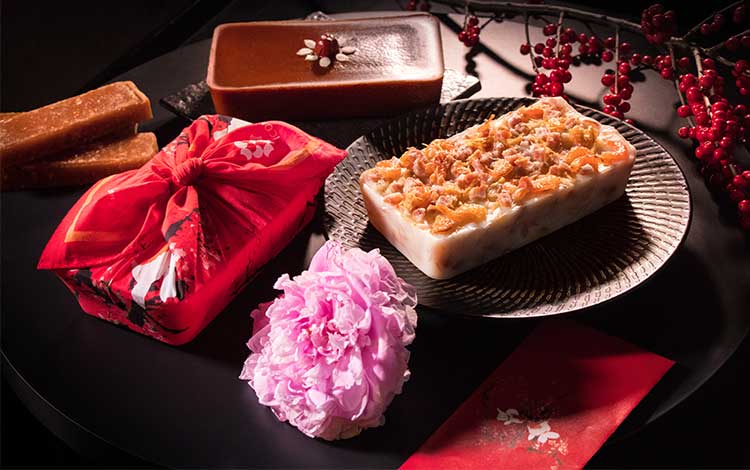 ABOVE & BEYOND
Location: Level 28
Reservations enquiry: (852) 3400 1318
Opening hours: 11:00 - 14:30 & 18:00 - 22:30 /
11:00 - 16:00 & 18:00 - 22:30 (Saturday, Sunday & Public Holiday)