ABOVE & BEYOND
With stunning views of the Hong Kong skyline, Above & Beyond offers some of the city's most lauded Cantonese cuisine from our experienced executive chef Paul Tsui. Whether you're an expert or a novice in Chinese cuisine, the menu will reward with classic and contemporary dishes alike, while our wine list provides the perfect accompaniment to adventurous palates, with vintages from around the world.
Add in our popular late night desserts from an award-winning patisserie chef, amazing teas, a private wine room, private dining and more to create the definitive destination for fans of Cantonese cuisine.
The Venue & Design: The legendary British designer Sir Terence Conan was responsible for the overall design aesthetic at Above & Beyond, while few Hong Kong restaurants can match the contemporary Chinese art collection it features. Cheung Yee works mainly in red, the colour steeped in Chinese culture, reflected in his beautiful cast paper murals. Chow Chun Fai celebrates local neighbourhoods including Mongkok and Jordan in his enamels on canvas, while Korean artist Kim Sung Ho captures stunning cityscapes, notably a nighttime view of Hong Kong from Victoria Peak.
INFORMATION
LOCATION
: Level 28
RESERVATION
: (852) 3400 1318
EMAIL
: aboveandbeyond@hotel-icon.com
OPENING HOURS
: 11:00 - 14:30
18:00 - 22:30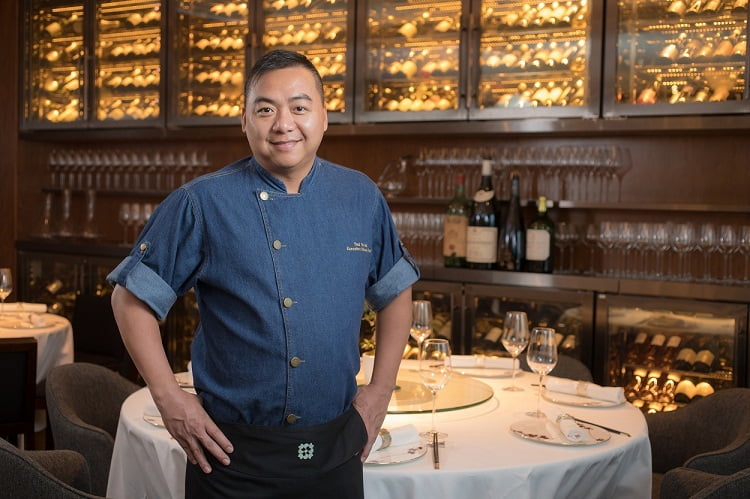 MEET OUR CHEF
Amongst many awards, Above & Beyond has gained three "fork-and-spoons" in the 2016 Michelin Guide to Hong Kong Macau and has made the South China Morning Post's list of '100 top tables' for four years running. The wine room and dedicated sommelier have also been recognised with the prestigious 'Award of Excellence' from Wine Spectator in their 2015 Restaurant Wine List Awards, recognizing their "excellent wine selections and appropriate cuisine pairing".
WHAT'S ON