Dinner Buffet Theme Nights
From Monday, 18th February 2019, the following daily theme buffet dinners, with a menu available on a rotating basis will be launched.

The theme buffet dishes will be showcased in addition to the much-adored selection of sizzling Asian specialties and international favourites available on The Market's award-winning buffet.
Monday: Mediterranean Flavours
Using only fresh ingredients, celebrate the bold yet satisfying flavours of a multitude of traditional Mediterranean favourites.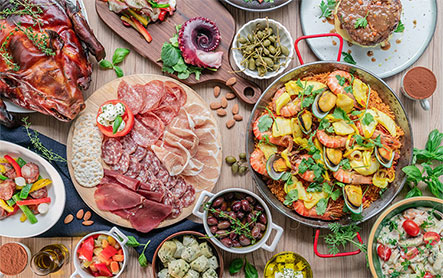 Highlights: Prosciutto Parma Ham, Sauteed Chorizo with Roasted Capsicum, Seafood Paella, Roasted Suckling Pig, Tiramisu in a Cup
Tuesday: Malaysian Classics
Discover the rich flavours found in well-loved Malaysian dishes and street food, characterised by a generous mix of herbs and spices.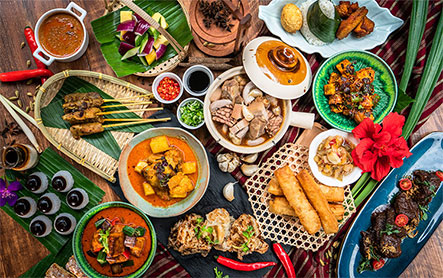 Highlights: Bak Kut Teh, Satay, Beef Rendang, Nyonya Fish Curry, Pandan Durian Mochi
Wednesday: BBQ Seafood
Seafood on ice, barbecued or grilled a-la-minute, this glorious taste and visual feast is something discerning diners should not miss.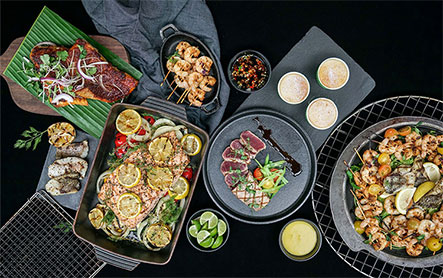 Highlights: Hawaiian Yellow Fin Tuna, Sustainable Norwegian Salmon, Argentina Shrimps Skewer, Philippines Skate Wing, European Cod Fillet
Thursday: Durian Favourites
For those with a sweet tooth and for savoury lovers, Chef Danny will be featuring his all-time favourite Durian delicacies made with nothing but the finest ingredients and seasonal products.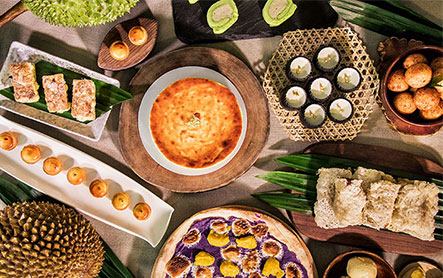 Highlights: Durian & Mozzarella Pizza, Durian Ice Cream, Durian Pandan Roll, Durian & Almond Stick, Durian Cheese Tart, Deep Fried Durian Ball
Friday: Taste of Thailand
Dive into Thailand's rich melting pot of flavours that is a foodie's paradise.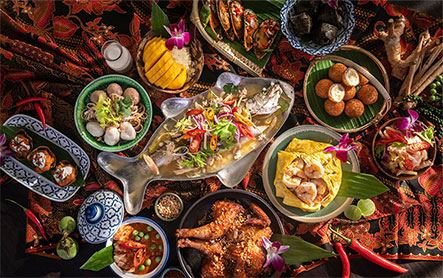 Highlights: Char Grilled Marinated Chicken, Steamed Seafood Soufflé, Stir Fried Mussels with Chilli and Basil, Pad Thai with Egg Wrapping, Mango Sticky Rice, Deep Fried Durian Bomb
Saturday: Japanese Delights
Enjoy some of the most popular specialties from Tokyo, rated as one of the world's most exciting dining destinations.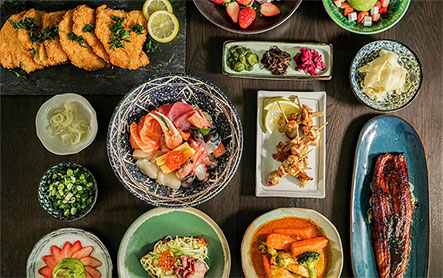 Highlights: Fresh Prawn & Veggie Tempura, Sashimi Rice Bowl, Octopus Ball, Crispy Fried Pork Cutlet with Vegetable Curry Sauce, Roasted Eel Fillet with BBQ Sauce
Sunday: Meat Lovers Night
Gather your favourite meat lovers for an incredible meat selection presented alongside homemade sauces, and side dishes including potatoes and sautéed vegetables.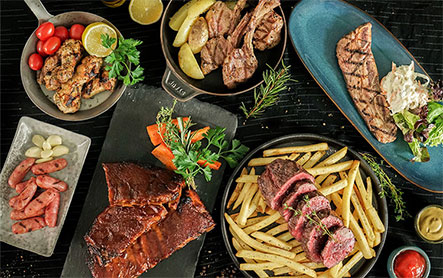 Highlights: Beef Tenderloin, Honey Glazed BBQ Pork Spare Rib, Herbed Lamb Chop, Asian Sausages from Thailand, Vietnam and Taiwan, Korean Beef Short Rib
'Drinks that Pop' Soda Station with our Specialised Soda Maker
Create your own delicately flavoured sodas, mocktails and signature cocktails. Choose your favourite ingredients from our selection of farm fresh herbs like Mint and Basil, seasonal fruits like Raspberry and Pineapple, freshly pressed juices like Grapefruit and Pineapple and homemade syrups in flavours like Lychee, Elderflower and Lavender.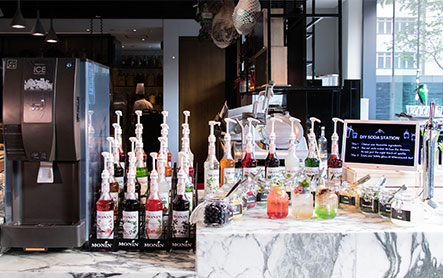 THE MARKET
Location: Level 2
Reservations Enquiry: (852) 3400 1388
Opening hours: 06:30 - 22:00 (daily)/ 06:30 - 23:00 (on Fridays)