Unlike Any Other Christmas in Hong Kong 2020
ICON-GUIDE
/\
/\/\
/\/\/\
/\/\/\/\
][
Unlike any other Christmas periods in Hong Kong due to the COVID-19 pandemic, and Hong Kong as a resilient city, shops and merchants are not yet giving up on the festive practices of putting up Christmas decorations, lights and events. Here are our top things to do over Christmas whilst the city today, on 17 December 2020, is still uncertain about whether tightened restrictions on dining and celebration will remain tight over 25 and 26 December 2020.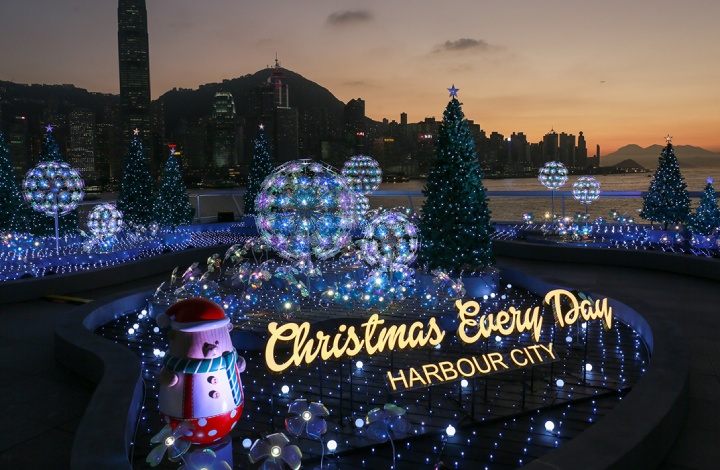 Image source: https://www.harbourcity.com.hk/en/article/christmas-every-day-harbour-city/
Multimedia and virtual excitements
A complete revamp of the Tsim Sha Tsui Harbour Promenade more conveniently bridges you to the Avenue of Stars, Hong Kong Museum of Art, Victoria Dockside, K11 Musea and the Tsim Sha Tsui Promenade. And with this year's Christmas 2020 lightings and decorations remain, why not stop by various wooden furnished couches as you take a stroll through the promenade! New couches and observatory decks are installed. You will find wonderful seating spots and small cafes, so you and your partner can eye-wander for multimedia skyscrapers newness over at the Hong Kong Island.
Tsim Sha Tsui Centre and Empire Centre lights are not to be missed either – Christmas LEF video will be projecting "Dance Machine" on these LEF fascades. The show run from 15 November 2020 to 1 January 2021 between 6pm to 11pm. The perfect spot for viewing is at the elevated Tsim Sha Tsui Promenade. But be sure to wear more as the sea breeze and temperature reaches below 14 Celsius degrees and lower in the evening.
In 2020, as many things-to-do turn virtual, so is this Christmas celebration available online. From 4 December 2020 to 3 January 2021, explore the delightful Christmas Town through a virtual tour with audio guide by Uncle Siu. Uncle Siu is known for his British English Club social page. The best part is you may collect stickers expressing some latest Cantonese slangs, downloadable to use on Whatsapp. Fully supported to view on mobile, enjoy a virtual home stay entertainment over this Christmas!
Boomerang friendly installations
Here we have designed a route for you to hunt for boomerang friendly landmarks! Start off with fixtures which are not light-deco reliant, then move on to the glowing installations which are better captured at night. Check out our itinerary here. Google map is required.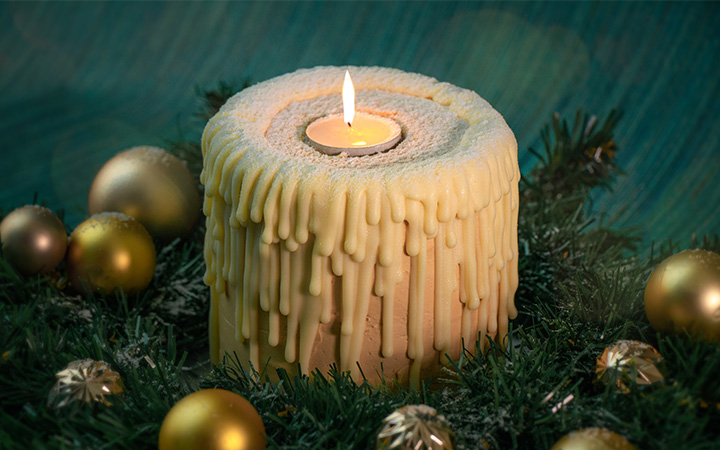 Fun and feasts
It's no secret that our buffet restaurant The Market remains a favourite pick from our Hong Kong fans during Christmas, and we are trying out new ways of entertainment this year! With enquiries about DIY activities, Hotel ICON launched a "Create your own" Christmas Candle cake workshop over the Christmas period, where couples and families can create Coconut Candle cake using Yan Chim Kee Coconut candies and other fluffy ingredients, for the ultimate enjoyment at the kitchen of The Academy. Starting from 22 December 2020, lunch will also be extended to the Silverbox ballroom, to know it's time for companies to reward staff for their hard work in 2020! And the Silverbox Ballroom will also be used to host a Christmas brunch over 25 and 26 December 2020.
Merry Christmas to you all.